Dal & Dalia Recipe | Broken Wheat with Moong Dal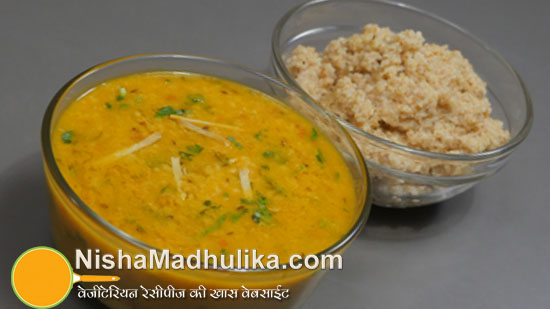 You have relished the tsste of authentic Homemade dal and rice. It is time you try out Dal and Daliya recipe.
Ingredients :
Moong Dal - 1/2 cup (50 gms)
Wheat Porridge - 1/2 cup (90 gms)
Ghee - 2 to 3 tbsp
Green Coriander - 2 to 3 tbsp (finely chopped)
Tomato - 1 (finely chopped)
Asafoetida - 1/2 pinch
Cumin seeds- 1/2 tsp
Turmeric Powder - 1/4 tsp
Ginger paste - 1/2 tsp
Green Chilies - 2 (finely chopped)
Red chili powder - 1/4 tsp
Coriander powder - 1 tsp
Salt - Less than 1 tsp or to taste
How to make Moong Dal Daliya :
Clean and wash the moong dal well, wash and chop the tomatoes too.
Heat cooker to make Dal, add 2 tsp ghee, add cumin seeds, asafoetida, turmeric powder, coriander powder. Reduce flame to prevent from browning. Add green chillies. Slightly roast the spices. add chopped tomatoes. red chili powder.Roast the spices until, till the tomatoes are mashed.
Once oil floats and spices are ready, add moong dal to it. Add salt.Stir and roast these for a minute. Add some water. Close the lid and cook dal until a single whistle. Turn off flame. Reduce the pressure from the cooker, let the rest escape then open the lid of the cooker.
Dal is dense add some water and let boil, add some green coriander to it. You can keep the cosnsistency of the dal as desired. As the dal comes to a simmer, turn off flame and take out the dal in a bowl.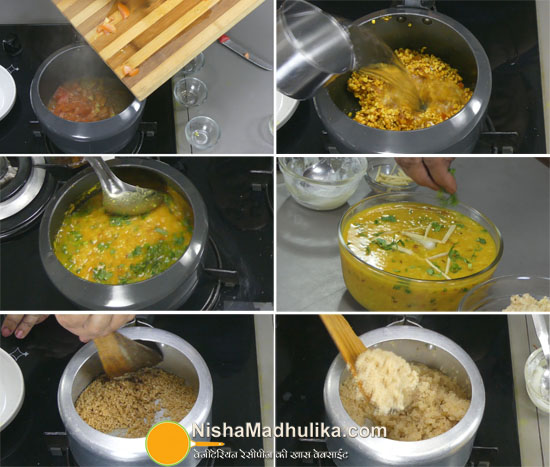 To cook daliya,
Heat cooker, add 1/2 tsp ghee add wheat porridge to it. Stir and roast the porridge until aromatic and changes in color. Keep flame medium. Add 1.5 cup water to the porridge and mix it. Close the lid of the cooker. Cook daliya until a single whistle. Turn off flame. Let the excess pressure out from the cooker.
Take out the porridge. Also pour some ghee over a bowl full of dal, Garnish dal with some ginger juliennes and green coriander.Have a healthy and sumptuous meal. This quantity is sufficient for 2 members.
Suggestion
You can add chilies as desired. If making for kids you can skip using the chilies.
Dal & Dalia Recipe | मूंग दाल और दलिया की पारम्परिक रेसीपी | Broken Wheat with Moong Dal

Tags
Categories
Dal & Dalia Recipe | Broken Wheat with Moong Dal
Nisha Madhulika
Rating:

5.00

out of

5