Ginger Candy Recipe | Candied Ginger Recipe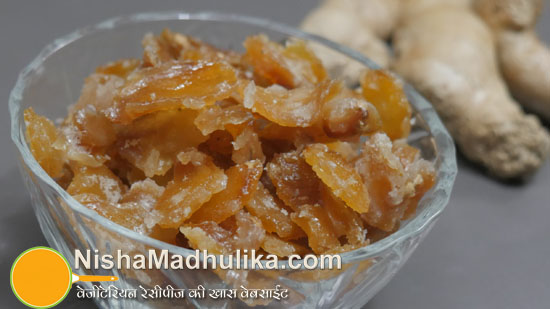 Filled with goodness of both taste and health, here is Ginger Candy Recipe.
Ingredients for Ginger Candy :
Ginger - 200 gms
Sugar - 1.5 cup ( 300 gms)
Green Cardamom powder - 1/2 tsp
How to make Candied Ginger :
For Ginger candy, peel and make ginger slices from washed and dried ginger. Cut the ginger into thin slices. Put in a cooker to boil, add 1/2 water close the cooker. Cook until a single whistle.
After a single whistle, reduce flame to minimum. Cook it on low flame for 10 minutes. After 10 minutes turn off the flame. Open the lid of the cooker as the pressure escapes from it.

When boiled and soft take out the ginger pices from cooker put in strainer to cool.
Pour 1.5 cup sugar in vessel, pour 1 cup water. Add leftover water from the ginger too. Turn on flame. Cook until sugar dissolves in water. Add the ginger slices in sugar syrup. Cook it on high flame until,the syrup is dense in consistency. Check the syrup.

Once dense, turn off flame, add 1/2 tsp green cardamom powder, Mix these well. Lift and keep it on a Jali stand. Let the ginger slices stay in syrup,for 10 to 12 hours or over night.
After the night, to take out the candy from the syrup, slightly heat it over flame. Cook untill syrup melts, Turn off flame.
Keep over Jali stand to cool. Then take out the candies one by one and place on net to dry. Keep it under the fan till completely dry. Candy takes 2 to 3 hours to dry.
Ginger candy is dried and ready after some time. Keep it in a plate. It is very delicious to eat, also helps in digestion of food. Keep it in an air tight container and use for upto 6 months.

Suggestion :
You can add lemon juice to the leftover ginger sugar syrup and make a drink from it.
Ginger Candy Recipe | अदरक की कैन्डी | Candied Ginger Recipe

Tags
Categories
Ginger Candy Recipe | Candied Ginger Recipe
Nisha Madhulika
Rating:

5.00

out of

5