Thandai recipe । Traditional Thandai | Sardai Recipe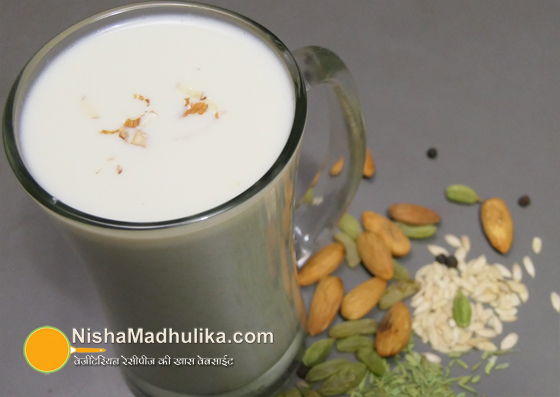 With the onset os Summer season, getting a glass full of thandai is a bliss to both the body and the mind. Made with milk and dry fruits this is also benefecial for health.
Ingredients for thandai recipe:
Almonds - 10 ( soaked)
Muskmelon seeds - 2 tbsp ( soaked )
Raisins - 2 tbsp (soaked)
Fennel seeds - 1 tbsp ( soaked )
Black pepper - 10 ( soaked )
Cardamom - 4 ( soaked )
Almond - 2 ( sliced for garnishing)
How to make Thandai :
To make Thandai soak Almonds, Muskmelon seeds, raisins, fennel seeds, black pepper and cardamom in separate bowls for upto 5 to 6 hours.
To make Thandai, add peeled almonds to the mixer jar, with it add soaked muskmelon seeds with water removed. Add raisins, fennel seeds and black pepper with the water. Grind to make a fine paste.
Add 1 cup water and mix well with the thandai paste. Strain this paste in a different vessel. Grind the leftover mix again. Strain the mix again.
Add 1.5 cup milk to the mix and stir well. Now add 4 to 5 ice cubes. Chilled Thandai is ready to be relished.
Take 2 glasses to serve the thandai. Add thandai to it. Garnish with pistachio shavings, and have a soothing drink this summer.
Suggestions :
Fennel Seeds and almonds are main ingredient for thandai. In thandai as dry fruits you can add, poppy seeds.
You can add or skip ingredients as desired.
You can soak all the ingredients together at once.
We have used raisins for sweetness, you can also use honey instead.
Thandai recipe । गर्मियों के लिये पारंपरिक ठंडाई । Traditional Thandai | Sardai Recipe

Tags
Categories
Thandai recipe । Traditional Thandai | Sardai Recipe
Nisha Madhulika
Rating:

5.00

out of

5