Petha | Ash Gourd | Kumahara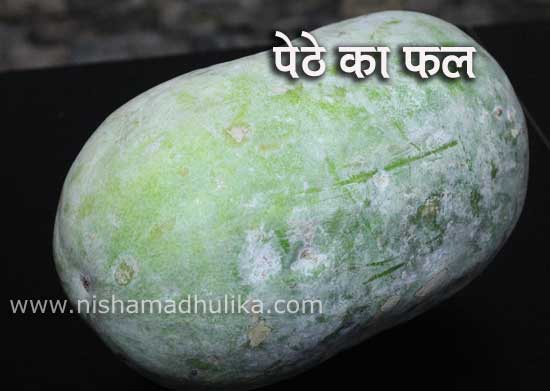 Kumhada is known as petha and also as kushmand. In english it is known as ash gourd. It is a type of vine. It is made and eaten as a sabzi or a sweet. It is mostly cultivated in India as well as South adn South Eastern Asia. In India Petha Mithai is mostly made from it.
Appearance of Kumhra (petha )
Petha is made from kaddu so it is also often known as Petha Kaddu. It is slightly green in color, and it mostly long and round in shape. This fruit also has a white powdery coating over it.
Difference between Petha and Pumpkin:
Petha (Kumhda )
Petha is smaller in size than the Pumpkin. Sabzi is made from the raw kumhra and halwa and murabba are made from the ripe Kumhda. Its Latin name is benincasa hispida.
Pumpkin
It is known as Sitafal, Kashifal, Ramkohla. In Sanskrit it is called Kushmand, Pushpfal, Vrihat fal, Vallifal. It is from the Cucurbeta Pepo family. In hindi it is known as Kaddu. It is used both as a fruit as well as a vegetable. It can be stored for a long period of time, it is mostly consumed during marraiges.
Health Benefits of Kumhda (Petha)
Kumhda is very nutritious. It is rich in calcium, phosphorus, magnesium, iron and zinc. Ripe Kumhda can be kept at home for a very long period of time. It also considered benefecial for health as according to the Ayurveda. This can also be given to ill people to eat as it is very light on the stomach and is easily digestible.
Kumhda - Petha Sweet
In India a very special sweet recipe is made out of the Kumhda, not only popular just in India but accross the globe. It is popular near Taj mahal. Petha sweet is made in various flavors and esscense like Angoori petha, coconut petha, dry petha, cashew petha etc.
Other uses of Petha
Colorful Tutti fruiti can also be made from the petha fruit, which is used in ice creams, sweet bread, cakes, shakes etc. Moreover Ladoos and Halwa can also be made from it. Its seeds are also used as dry fruit.

Tags
Categories
Petha | Ash Gourd | Kumahara
Nisha Madhulika
Rating:

5.00

out of

5