Sooji Mawa Gujiya | Semolina Khoya Gujiya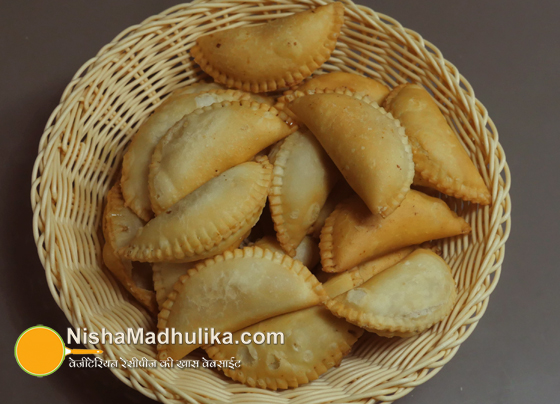 You have usually relished the taste of Mawa Gujiya every holi, this time introduce everyone to the unique taste of Sooji Mawa Gujiya.
Ingredients for Semolina Khoya Gujiya :
Plain Flour - 2 cups ( 250 gms)
Ghee - 1/4 cup ( 60 gms)
Mawa - 1/2 cup ( 125 gms)
Semolina - 1/3 cup ( 60 gms)
Boora - 3/4 cup ( 150 gms)
Almonds - 10 to 12 (finely chopped )
Cashew nuts - 10 to 12 (finely chopped)
Grated Dry coconut - 1/3 cup
Raisins - 1 tbsp
Green Cardamoms - 6 to 7
Black pepper - 10 to 11 (coarsely grounded)
Nutmeg - 1/2
Ghee - For frying
How to make Sooji Mawa Gujiya :
Take Plain flour in a mixing bowl, make a hollow pit in it, add ghee (moen)to it, mix well with hands. Add lukewarm water in small portions and knead stiff dough.Cover and keep it aside for 20 to 25 minutes to set.
For stuffing,
Heat pan, add 2 tbsp ghee to it as ghee melts add semolina to it, Stir and roast it, until golden brown. Keep flame medium. Take boora in a bowl, take out semolina, pour over the sugar.
Roast dry fruits, such as cashews, almonds for 1 to 2 minutes. Then take out and keep in the same bowl as boora and semolina. Slightly roast grated coconut, in hot pan for half a minute. Keep in same bowl.
Crumble and add mawa to the pan, stir and roast, till it changes color. Keep flame medium. Add raisins to the bowl,
Take cardamoms coarsely grind them and add, grind black pepper as well, add and grate a nutmeg over it. Mix all ingredients well.
Meanwhile dough is ready, knead it a bit.Divide dough into 2 parts, make a log, break lumps. Lift dough lump, press and make round dough ball, like a peda. Roll it out thin from the edges with 3 to 4 inch in diameter.
Take the gujiya mould, keep the poori over the mould so that, the lower part of it comes above. Put stuffing in the poori, grease edges of poori with water. Close the mould. Press well on the edges. Remove extra dough. Open the mould, take out gujiya keep in a plate. Likewise roll out , stuff and prepare all gujiyas. Keep in plate.
Heat ghee to fry the gujiyas, keep it medium hot. Put one gujiya to fry and check, when frying reduce flame. Put as many gujiyas as they fit in the wok. Once roasted from beneath, flip them. Stir and fry until golden brown from both sides, Keep flame medium low. Lift the gujiya in ladle. Take out from the wok, keep in plate, Fry all Gujiyas likewise.
Sumptuous, Sooji mawa gujiya's are ready As the gujiyas cool down, keep in an air tight container, and relish it for 15 days.
Suggestions :
To make Kasaaar/ Stuffing roast all the ingredients well.
Do not knead the dough to soft or too stiff. It should be such so that is rolled out nicely even without dry flour or ghee.
While filling the kasaar be very cautious, else the gujiya will split open. Fill the kasaar in the center of the poori and not reach the edges else it will not stick and gradually open while frying, all the kasaar will spread in oil.
Make sure there are no nail marks or spoon marks on the gujiya.
If the Gujiya opens while frying immidiately take it out from the wok fry it at last. By doing so the Ghee will not be spoilt.
If desired make the kasaar in lot and keep it in refrigerator. Within 15 to 20 days whenever you get time knead dough and make gujiyas. If 2 to 3 people make gujiyas then approximately 1 kg of gujiyas can be made at once.
After adding moen to the refined flour bind and check it. It should be binded well.
Moen is taken 1/4 the quantity of flour.
You can use boora instead of sugar.
Roll out the pooris evenly.
Rather than rolling out the pooris for the gujiya one by one, roll out 5 to 6 pooris at once and stuff them.
The lower part of the poori stays a bit moist, so it sticks well.
To make Gujiyas from the leftover cutting, grease handswith water smoothen the dough and make the gujiyas.
Serve the kasaar to kids, they will relish it, else keep it in the refrigerator for 10 to 15 days and make it anytime.


Sooji Mawa Gujiya । सूजी मावा की गुजिया - होली स्पेशल | Semolina Khoya Gujiya

Tags
Categories
Sooji Mawa Gujiya | Semolina Khoya Gujiya
Nisha Madhulika
Rating:

5.00

out of

5