Cheese Namakpara । Cheeselings recipe | Tea Time Snacks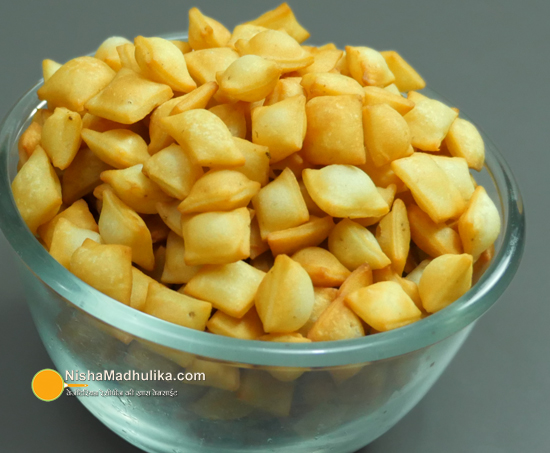 One of the favorite snacks among kids, relished even by adults is this srispy tasty snack of Cheesy Namakpare.
Ingredients for Cheeselings recipe :
Refined flour - 1.25 cup (150 gms )
Grated Processed cheese - 1/2 cup (50 gms)
Ghee - 2 tbsp
Lukewarm milk - 1/2 cup
Salt - 1/3 tsp
Carom seeds - 1/3 tsp (finely ground )
Oil - for frying
How to make Cheese Namakpara :
Take refined flour in a bowl. Make hollow pit. Add ghee, salt,finely ground carom seeds and grated processed cheese.Mix all ingredients well. Take lukewarm milk. Add it in small portions,knead slightly stiff dough. Press for 5 minutes. Cover and keep the dough for 20 minutes, to set. 1/4 cup milk is used in it.
Press for 4 minutes again. Divide dough into 4 equal parts. Lift a dough lump. Cover rest to prevent from drying. Press and make round dough ball. Roll out very thin. At first, lift the sheet and roll out then as it spreads, rotate the rolling board, then cut into 1/2 to 3/4 inch square pieces. Remove the rough edges.
Put oil to heat. Check the oil. Keep oil medium hot. As the oil heats up, put one namakpara to fry and check. If it is fried the oil is rightly hot. Take out namakpare from board with knife, put as many cheese namakpare in the wok as they fit in to fry.
Fry on medium flame until golden brown. Reduce flame. Once fried, take it out on the ladle, hold on the edge of the wok till the oil drains back and keep in sieve, then keep in plate. Fry all namakpare. Prepare all likewise.
Cheesy Namakpare are fried and ready. As they cool down keep in an air tight container and relish it for 15 to 20 days.
Suggestions :
You can take processed cheese or Mozzarella cheese for making these.
Knead the dough well until it is smooth. Roll out the thin sheet.
Cheese Namakpara | चीज नमकपारे । Cheeselings recipe | Tea Time Snacks

Tags
Categories
Cheese Namakpara । Cheeselings recipe | Tea Time Snacks
Nisha Madhulika
Rating:

5.00

out of

5