Aloo Matar Paratha | Aloo Matar Stuffed Paratha Recipe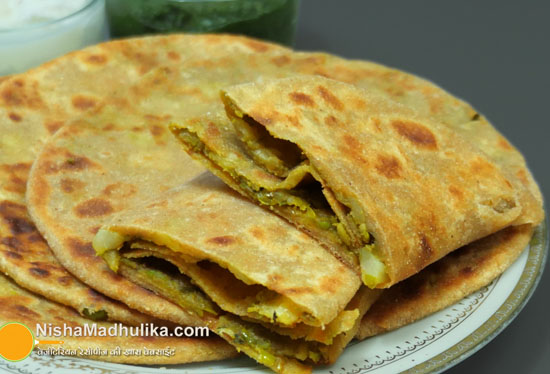 Enjoy the mouth drooling Matar Aloo parantha for breakfast, along with Steaming hot cup of tea or cofee. You can also pack it for your lunch.
Ingredients for Aloo Matar Stuffed Paratha Recipe :
Wheat Flour - 2 Cups ( 300 gms)
Green Peas - 1 cup
Green Chilies - 2
Boiled Potatoes - 3 ( 250 gms )
Oil - 2 to 3 tbsp
Green Coriander - 2 to 3 tbsp (finely chopped)
Green Chilies - 2 ( finely chopped)
Ginger paste - 1/2 tsp
Cumin seeds - 1/2 tsp
Turmeric Powder - 1/4 tsp
Coriander powder - 1 tsp
Garam masala - 1/4 tsp
Red chili powder - 1/4 tsp
Mango powder - 1/2 tsp
Salt - 1 + 1/4 tsp or to taste
How to make Aloo Matar Paratha
Prior to making the parathas make paste from green chili and green peas. Peel the boiled potatoes.
Take wheat flour in a mixing bowl, add more than 1/2 tsp salt, 1 tsp oil. Mix it. Add water in small portions and knead soft dough. Cover and keep the dough aside for 20 minutes. 1 cup water is used to knead this quantity of dough.
For stuffing, heat a pan, add 2 tsp oil to heat up. Add cumin seeds and roast it till it crackles. Add finely chopped green chili, ginger paste. Reduce flame to prevent from browning. Add turmeric powder, coriander powder and saute the spices. Add green chili, green pea paste to the spices. Keep flame medium. Roast until it dries up. Crumble and add boiled potatoes too. Add salt, garam masala, red chili powder, dry mango powder. Mix all spices and potaoes and roast all stuffing well.Turn off flame. Add green coriander to the stuffing, mix well, take out the stuffing in a bowl.
As the dough sets, grease hands with oil, Squash the dough for 1 to 2 minutes. Break lump from the dough, make dough ball. Coat dough ball in dry flour, roll it out 3 to 4 inch in diameter. Then grease with oil on all sides, keep the stuffing over it. Make pleats, close the stuffing. Press with hands to spread stuffing evenly. Coat it in dry flour, lightly roll out thick paratha.
Heat tawa. Put the paratha to roast. R oll out the paratha likewise. Flip and roast paratha until the other side is brown. Grease parantha with oil. Press and roast the parathas well, till brown spots appear on both sides. Keep the paratha in a bowl over the plate. Roast all parathas likewise.
Serve Sumptuous Parathas with curd, chutney, pickle or any favorite gravy sabzi.
Suggestion :
If you prefer it spicy add more of red chili powder.
Keep the size of parathas as desired.
Greasing the paratha is not essential but if you grease then the parathas become more crispy.
You can adjust the quantity of stuffing for paratha as desired, do not over stuff the paratha.
Do not press the parathas hard while rolling out, or do not roll out too thin else stuffing will come out.
Do not keep the steaming hot paratha in the plate else it will turn soggy.
Aloo Matar Paratha | हरी मटर आलू का परांठा । Aloo Matar Stuffed Paratha Recipe

Tags
Categories
Aloo Matar Paratha | Aloo Matar Stuffed Paratha Recipe
Nisha Madhulika
Rating:

5.00

out of

5