Sweet Tamarind Chutney | Instant Sweet Imli Chutney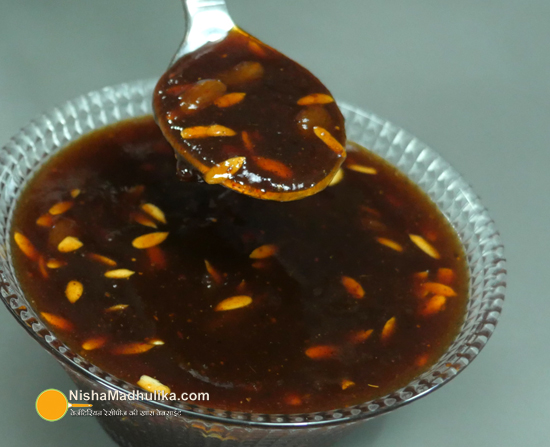 Sweet and tangy Tamarind chutney for chaat and dahi vadas, prepared from previously prepared pulp.
Ingredients for Instant Sweet Imli Chutney :
Tamarind Pulp - 1/2 cup
Sugar - 1 cup ( 250 gms)
Raisins - 1 tbsp
Dates - 2 ( finely chopped)
Muskmelon seeds - 1 tbsp
Garam Masala - 1 tsp
Ginger powder - 1 tsp
Roasted Cumin Powder - 1 tsp
Red chili powder - 1 tsp
Black salt - 1 tsp
Salt - 1/2 tsp ( or to taste)
How to make Sweet Imli chutney
Take tamarind pulp pour it in a wok. Then add 1 cup water to it. Add 1 cup sugar, cook chutney on high medium flame till the sugar dissolves. Add spices such as ginger powder, roasted cumin powder, red chili powder, black salt, plain salt, garam masala. Mix all ingredients well.
Add some dry fruits such as finely chopped dates, raisins. Cook the chutney till it becomes dense. Chutney is cooked for 7 minutes and is quite dense ( for instant use) , If you wish to keep it for a longer duration, then cook it for 2 more minutes.
To check pour few drops from spatula, it falls slow or pour it in bowl, stick between fingers and check if thread forms.
Chutney is cooked. Lift it and keep on jali stand to cool. On cooling the chutney becomes dense.
To roast the musk melon seeds, pour them in a pan. Stir and roast until it turns puffy. Add musk melon seeds to the chutney, for nutty flavor. Mix it.
Yummy Sweet Imli chutney is ready, keep it in a bowl, use it instantly if desired. On cooling you can fill it in any container, keep in fridge and use it for upto 6 months.
Suggestions :
You can see the Tamarind Pulp recipe on my channel.
You can add 1 tsp ginger paste instead of ginger powder.
Dry fruits give a unique flavor to the chutney.
You can make the chutney with the same quantity of jaggery or jaggery and sugar together in equal proportions.
If the chutney seems dense add as much water as is needed to reached the desired consistency.
Sweet Tamarind Chutney | चाट दही वड़ा के लिये इमली की खट्टी मीठी चटनी । Instant Sweet Imli Chutney

Tags
Categories
Sweet Tamarind Chutney | Instant Sweet Imli Chutney
Nisha Madhulika
Rating:

5.00

out of

5