Suji Shakarpara | Semolina khasta shakarpara Recipe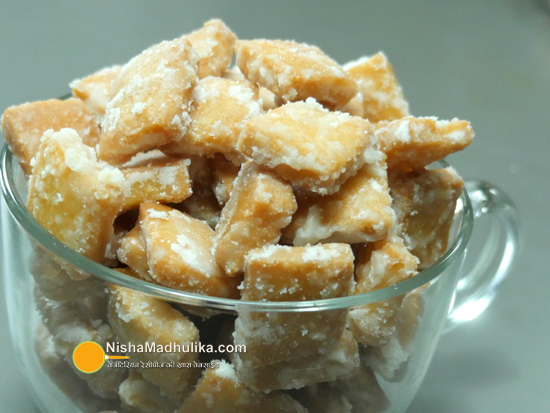 There are a variety of dishes that are prepared for Holi festival in advance. Shakarpare are one of the main sweet prepared during this time. Since you have a few days left for the festical, why not prepare Shakarpare in advance.
Ingredients for Semolina Khasta Shakarpare recipe :
Semolina - 1.5 cups (300 gms )
Sugar - 1 cup (200 gms )
Sesame seeds - 2 tbsp
Lukewarm Milk - 1 cup
Ghee - 3 tbsp
Oil - For frying
How to make Sooji Shakarpare :
Take fine semolina, make dough from it. Add ghee.Mix it well.Add lukewarm milk in small portions and knead soft dough. Add sesame seeds and mix.Cover and keep it for 20 miniutes to set. 1/2 cup milk is used to knead this quantity of dough.
After 20 minutes, Dough is set, knead and smoothen dough. Divide dough in 2 parts. Meanwhile grease rolling board and pin with oil. Make balls from dough,Press with hands and roll out thick 1/4 cm . Rather than lifting up the the sheet rotate the rolling board ans roll out sheet like that of a paratha.It becomes more convenient.
Cut in desired shape. Cut all of the shakarpare sheets likewise.
Meanwhile heat up oil in wok to fry shakarpare. Check if oil is medium hot. Once hot put as many shakarpare to fry as they fit in the wok. Oil should be medium hot to fry the shakarpare.
Stir shakarpare and fry until golden brown on all sides on low medium flame. Hold the shakarpare in the ladle on the edge of the wok so that extra oil drains back. Then take it out, keep in a plate over the tissue paper. Prepare all the shakarparas likewise.
To make sugar syrup
put the sugar in pan, add 1/2 cup water. Turn on flame. Stir and cook sugar syrup until sugar dissolves. Cook the sugar syrup for 3 to 4 minutes even after the sugar dissolves. Check the sugar syrup, The syrup should be of 2 to 3 threads of setting consistencya nd of setting consistency.
To check the syrup pour a few drops of it in a bowl. As it cools stick it between your thumb and finger. If it forms a single thread it is ready. Do not make the sugar syrup too dense. Once it is ready, turn off flame. Take it off from flame, keep on jali to cool.
Put the shakarpare in hot syrup. Mix the shakarpare well to coat all with sugar. Keep it in a plate to cool. Keep separating the shakarpare else they will form cluster.
Shakarpare are ready. As it cools , keep in a container,and relish it for 2 months.
Suggestion:
Take fine semolina to make Shakarpare. If taking thick semolina then take 3/4 cup swmolina and 1/4 cup refined flour.
While adding Moen you can add oil instead of ghee.
Make the dough slightly stiff as it turns soft later.
Fry the shakarpare in medium hot oil on medium low flame only.
Sugar syrup should be of setting consistency. It should not be too dense else it will scatter on adding the shakarpare.Prepare the sugar syrup till it has 2 to 3 thread formation.
If you prefer the shakarpare more sweet then stir it more till there is sugar well coated over it. Sugar syrup becomes dense on cooling.
From the leftover sugar syrup, you can make tea, halwa, cheela etc.

Tags
Categories
Suji Shakarpara | Semolina khasta shakarpara Recipe
Nisha Madhulika
Rating:

5.00

out of

5