Masala Khichdi । Indian Masala Vegetable Khichdi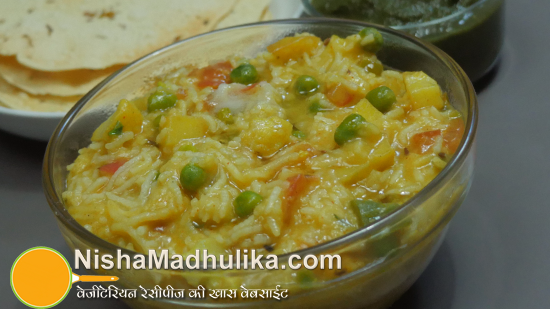 Rich in nutrients this instant Vegetable spicy Khichdi is a delight to have.
Ingredients for Indian Masala Vegetable Khichdi
Soaked Basmati Rice - 1/2 cup (100 gms )
Soaked Moong dal - 1/2 cup (50 gms )
Green Peas - 1/2 cup
Cauliflower - 1/2 cup (finely chopped)
Capsicum - 1/4 cup (finely chopped)
Potato - 1 (chopped )
Tomato - 1 (finely chopped )
Ghee - 2 to 3 tbsp
Green coriander - 2 to 3 tbsp( finely chopped )
Cumin seeds - 1/2 tsp
Asafoetida - Less than 1/2 pinch
Turmeric powder - 1/4 tsp
Ginger - 1/2 inch piece (finely chopped)
Green chili - 2 (finely chopped)
Red chili powder - 1/4 tsp
Garam masala- 1/4 tsp
Salt - 1.5 tsp (or to taste)
Whole garam masala - 7 black pepper & 2 cloves
How to make Masala Khichdi
Take basmati rice and moong dal, soaked in water for 30 minutes separately.
Put the rice in cooker, add dal, add 2.5 cup water and boil rice. Cook until a single whistle, then turn off flame. Keep the rice dal in cooker til pressure escapes.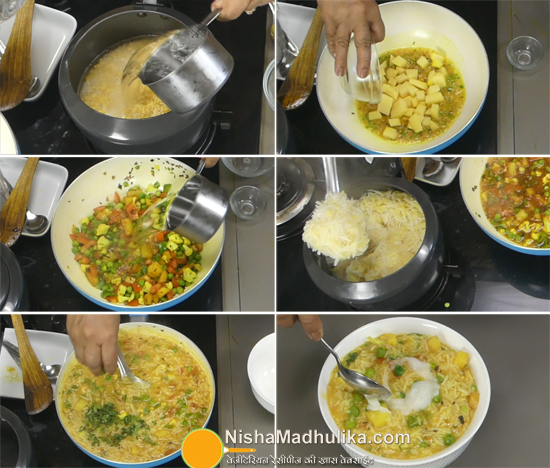 Pour 2 tbsp ghee in pan to heat, when hot enough add cumin seeds, asafoetida, turmeric powder. Reduce flame to minimum, add finely chopped ginger piece, finely chopped green chilies. Add some coarsely grinded black pepper and cloves as well. Add Cauliflower and peas and roast for 1 minute. Add capsicum and roast for 1 minute then add tomato and cook it . When veggies are crunchy and roasted,add 1 cup water to it.
Add salt, red chili powder and garam masala. Mix all ingredients well. Meanwhile Open cooker and check if pressure is released. If dal rice seems dense add more water. Let it boil.As Veggies are boiling add dal rice to the pan, mix well and cook for 1 to 2 minutes. Khichdi is cooked and ready. Add a little green coriander.Steaming hot Khichdi is ready. Take out the khichdi in a serving bowl. Garnish khichdi with some ghee and serve with papad,chutney, pickle and curd.
Suggestion :
If you are taking broken rice for khichdi, then it cooks easily, soaking not required. You can just wash and use it.
You can also add ghee and roast the veggies. Then add dal rice, add water and boil rice or cook veggies separately, mix with boiled rice dal later.
If veggies are roasted and added to rice and dal, then the veggies will turn soft. Very soft veggies won't taste good as crunchy ones.
Do not add much water in cooker, as it will spill out.
If you prefer eating onion and garlic, then add 3 to 4 garlic cloves and 1 onion finely chopped, and saute until slightly pink.
You can take any veggies as desired,
If you prefer it spicy add more red chili powder to the veggies.


Masala Khichdi | वेज मसाला खिचड़ी । Indian Masala Vegetable Khichdi

Tags
Categories
Masala Khichdi । Indian Masala Vegetable Khichdi
Nisha Madhulika
Rating:

5.00

out of

5