Hare Matar ki Dal | Fresh Green Peas Daal Recipe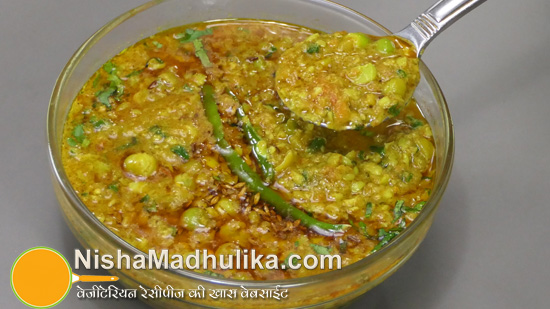 You have already relished the taste of Green Peas sabzi, matar pulao or Nimona. Today we will introduce you to the unique taste of Green Peas dal.
Ingredients For Fresh Green Peas Daal Recipe
Green Peas- 1 Cup
Tomatoes - 2 (100 gms)
Green Chilies - 2
Green Coriander - 2 to 3 tbsp (Finely Chopped)
Green Chili - 1 (Sliced)
Oil - 1 to 2 tbsp
Ghee - 1 tsp
Asafoetida - 1/2 Pinch
Cumin Seeds - 1/2 tsp
Turmeric Powder - 1/4 tsp
Coriander Powder - 1 tsp
Red Chili Powder - 1/4 tsp
Garam Masala - 1/4 tsp
Ginger Paste - 3/4 tsp
Salt - 3/4 tsp or to taste
How to make Hare Matar ki dal
Take desi tomatoes and green chilies, make paste from it.
Heat cooker to make Green peas dal. Add 1 to 2 tbsp oil in it. When oil is hot enough, add 1/4 tsp cumin seeds. Roast it. Add asafoetida, turmeric powder, coriander powder. Slightly roast on low flame. Reduce flame, to prevent spices from browning. Add green chili tomato paste, ginger paste, red chili powder. Roast the masala till oil floats over it.
Grind the green peas coarse in a mixer. Masala is roasted.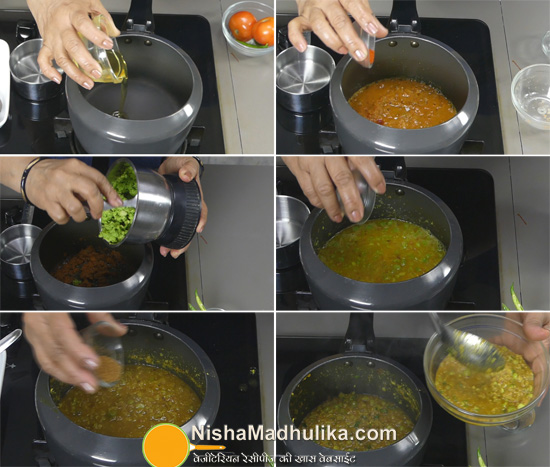 Coarsely grind some green peas, keep a little of this intact. Add coarsely ground green peas to masala. Roast it with spices for a minute. Add 1 cup water. Mix it well. Add salt. Close the cooker, cook until a single whistle. Then turn off flame. Keep dal in cooker till pressure escapes.Once the pressure escapes,dal is cooked and ready. Add garam masala, some finely chopped green coriander, mix it. Dal is ready, take it out in a bowl.
For tempering
Heat Tadka pan, put 1 tsp ghee in it, let it heat. Then add cumin seeds, 1 thinly sliced green chili, Slightly roast it. Turn off flame, add red chili powder in it, pour the tadka over the dal, mix it. Garnish dal with some green coriander.
Sumptuous Green Peas Dal is ready to be served. You can serve it with chapati, paratha, naan or rice.
Suggestion :
Preferably take desi tomatoes, as these are tangy tomatoes which give a unique tangy taste to the dal.
Asafoetida is optional, you can also use onion garlic if desired.
Using turmeric powder is optional.
If you don't have ginger paste, then make fine paste with tomatoes using 1/2 inch ginger piece.
Garam Masala and coriander is added in the end, so that it stays aromatic,
Hare Matar ki Dal | ताजा हरे मटर की दाल । Fresh Green Peas Daal Recipe

Tags
Categories
Hare Matar ki Dal | Fresh Green Peas Daal Recipe
Nisha Madhulika
Rating:

5.00

out of

5