Til Peanut Gazak । Til Mungfali Patti for Makar Sankranti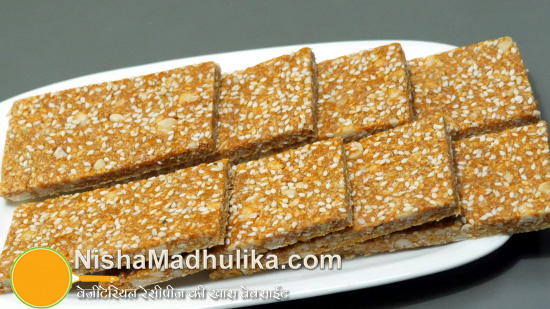 Makar Sankranti Special Til Peanut Gajak with a crunchy taste to relish.
Ingredients for Til Mungfali Patti for Makar Sankranti

Sesame seeds - 1 cup (135 gms )
Roasted Peanuts - 1 cup ( 150 gms )
Jaggery - 1 cup ( 250 gms ) ( Crumbled )
Ghee - 2 tsp
How to make Til Peanut Gazak
Put wok to heat, Put sesame seeds in it and roast on medium flame by stirring continuously till puffy and changed in color. Sesame seeds are roasted in 3 minutes and is ready. Once roasted keep in plate so that it cools quickly.
To make jaggery syrup, put wok to heat, add 1 tsp ghee and let it melt, then add 1 cup crumbled jaggery. Cook on low flame , let it melt slowly. Check jaggery at intervals.Coarsely grind roasted peanuts, when grinded keep in bowl. Keep sesame seeds, grind the rest coarsely.
Grease the board with some ghee.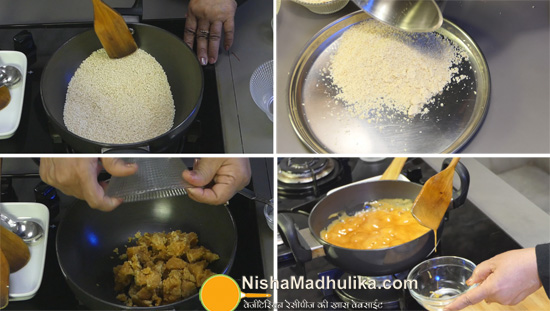 Once jaggery has melt, increase flame. Cook jaggery until it foams up. It has foamed up, Check it by pouring few drops in bowl of water.Reduce flame to prevent jaggery from burning too fast. If it is stretchy and undercooked, cook for a little while on low flame.
Check again, if jaggery breaks as it cools, it is ready. Turn off flame. Put all ingredients in syrup and mix i.e peanuts and sesame seeds. Mix well.Turn on flame so that the mix doesn't set as it cools, blend it.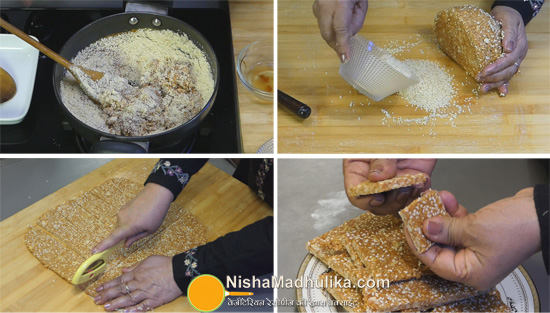 Gajak mix is ready, turn off flame. Put it on the board. Sprinkle the sesame seeds over the mix. Grease Hands and rolling pin with ghee, then gather mix with hands. it is gathered when slightly hot, it sets as it cools.Put some sesame seeds on the board, coat mix well with it. Press with hands and expand. Roll out with rolling pin keeping slight thickness of 1/3 cm to 1/2 cm.
Once sheet is ready, cut in desired shape. Keep to cool then separate pieces. Once cool and crisp,take it out from board.Winter special Til Moongphali Gajak is ready. It is really crisp. Keep in an air tight container,relish it for 1 to 2 months.
Suggestion :
While making syrup be a little cautious, if the syrup is undercooked, then gajak will be soft.
If syrup is over cooked, then it will be sour and bad in taste. Keep a check on it.
When you check the consistency of jaggery syrup, reduce flame to prevent jaggery from burning too fast.
We had cautiously turned off flame, to prevent the mix from burning. Once mixed well turn on flame, because mix sets as it cools.
Til Peanut Gazak | तिल मूंगफली की गजक । Til Mungfali Patti for Makar Sankranti

Tags
Categories
Til Peanut Gazak । Til Mungfali Patti for Makar Sankranti 
Nisha Madhulika
Rating:

5.00

out of

5