Stuffed Eggplant Curry । Bharwa Baingan with Gravy in cooker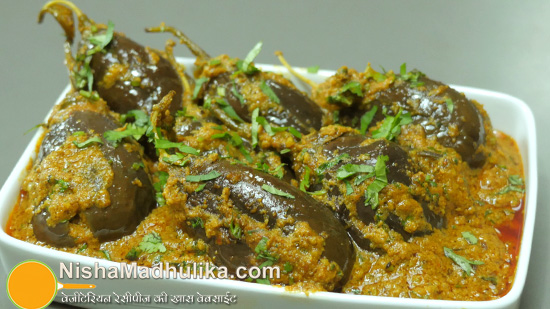 Stuffed Eggplant is relished by all. This when made with a gravy tastes more sumptuous. Make mouth drooling Bharwan Baingan with gravy in cooker.
Ingredients for Bharwan Baingan with Gravy in cooker
Eggplant - 8 ( 250 gms )
Oil - 2 to 3 tbsp
Green Coriander - 2 to 3 tbsp (finely chopped )
Fresh Coconut - 2 to 3 tbsp (grated )
Sesame seeds - 2 tbsp
Roasted Peanuts - 2 tbsp
Coriander powder - 2 tsp
Fennel powder - 2 tsp
Cumin seeds - 1 tsp
Turmeric powder - 1/2 tsp
Red chili powder - 1/2 tsp
Mango powder - 1/2 tsp
Ginger paste - 1/2 tsp
Green chilies - 2 (finely chopped )
Asafoetida - 1/2 pinch
Garam masala - 1/4 tsp
Salt - Less than 1 tsp (or to taste )
How to make Stuffed Eggplant Curry
To Roast Spices
Heat pan. Add cumin and sesame seeds too, roast until they change color. Take out in a plate.
Slightly roast freshly grated coconut too. Turn off flame.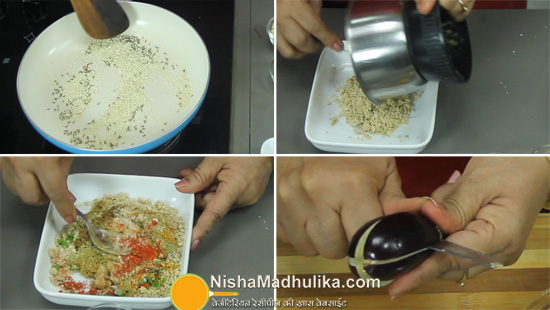 Take roasted peanuts,roasted coconut, roasted cumin and sesame seeds in jar Coarsely grind all. Take out in plate.
To the ingredients in plate add coriander powder, fennel seeds powder, ginger paste, turmeric powder, red chili powder, dry mango powder, finely chopped green chili with seeds removed. Add garam masala, Less than 1 tsp salt Mix all ingredients till they blend well.
To stuff the eggplants
Take 8 small eggplants, cross cut them. Fill the masala with a spoon.Press it well. Stuff all likewise.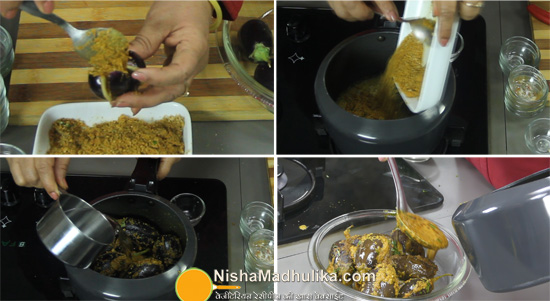 To make bharwan Baingan in cooker
Put cooker to heat, add oil once rightly hot, add cumin seeds, asafoetida. Add leftover masala to it. Slightly roast it. Add stuffed eggplant. Mix the eggplant well in the spices. Add 1/2 or 3/4 cup water to it. Keep gravy consistency as desired. Close the lid of the cooker.Increase the flame. Cook until a single whistle. Then turn off flame. Wait till the pressure escapes from the cooker.Eggplant is ready, Sprinkle a little green coriander over it. Take out the the eggplant in a plate. Pour the gravy over the eggplant.
Stuffed baingan in cooker is ready.Garnish with a little green coriander.You can serve it Chapati ,paratha, naan or rice.
Suggestion :
Do not roast sesame seeds too much just roast till it turns puffy.
These are purple colored eggplant, you can take white eggplant or green eggplant.
You can make the gravy dense or slurry as desired.
Check the eggplants after you cross cut them.
Stuffed Eggplant Curry | भरवा बैंगन ग्रेवी वाले । Bharwa Baingan with Gravy in cooker

Tags
Categories
Stuffed Eggplant Curry । Bharwa Baingan with Gravy in cooker
Nisha Madhulika
Rating:

5.00

out of

5