Gajar, Shalgam, Gobi Ka Achar | Shalgam Gajar Mix Veg Pickle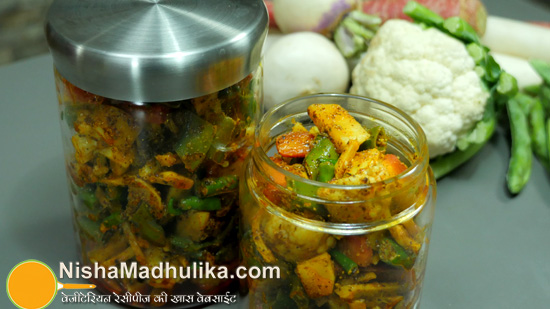 Winter is a great time to enjoy seasonal veggies. It adds a distinct flavor to your everyday food. It is time you try a mix of such veggies in a pickle. Try making Shalgam Gajar Sem gobhi Mix achar this time and relish all winter.
Ingredients for Shalgam Gajar Mix Veg pickle
Peeled Turnips - 2 ( 250 gms)
Peeled Carrots -2 ( 250 gms )
Sem - 250 gms
Cauliflower - 1 floret (300 gms)
Green Chili - 100 gms
Ginger - 100 gms
Mustard oil - 1 Cup
Vinegar - 1/3 cup
Black Mustard - 4 tbsp (coarsely grounded)
Salt - 3 tsp or as per taste
Asafoetida - 1 Pinch
Cumin seeds - 1 tsp
Black pepper - 1 tsp
Fenugreek seeds -2 tsp
Fennel Seeds - 4 tsp
Red Chili Powder - 2 tsp
Turmeric Powder - 1.5 tsp
How to make Shalgam Gajar Sem gobhi /Mix achar:
Take veggies such as cauliflower florets wash it 2 to 3 times. Pat dry. Take peeled turnip carrot washed and dried. Take a bunch of sem with strands removed.
Cut the turnip into 1/2 to 3/4 inch pieces. Cut carrots likewise. Cut the sem 1/ 2 to 3/4 inch in size. Cut the green chili into bite sized piece and ginger in desired size.
To blanch the veggies
Keep water to boil, enough to dip veggies. Put the veggies in boiling water and blanch veggies.Boil for exactly 3 minutes.Turn off flame. Take out the veggies from water.
After 3 minutes. Turn veggies over strainer, drain water. Keep the veggies in strainer for 5 minutes.
Spread it over a cloth and dry it in sunlight or under fan. Once dried put the veggies in a plate.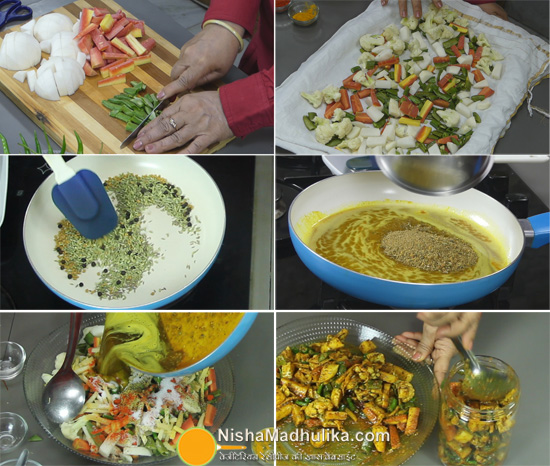 To make masala for pickle,
Roast the whole spices. Turn on flame. Add to the pan , cumin seeds, black pepper, fenugreek seeds, fennel seeds. Stir and roast slightly for 1 minute. Keep it in a plate to cool off.Pour 1 cup mustard oil in the pan.Let the oil heat up.
Till the oil heats up, put the whole spices in a jar and coarsely grind them. Once oil is hot. Turn off flame. Let is cool.
Once oil is cooled off, add asafoetida, turmeric powder, add coarsely ground spices too. Mix all well.
Put the dried veggies in a bowl. Add green chili, ginger, coarsely ground black mustard, red chili powder, salt. Mix the oil and spices well with the veggies. Add vinegar.

Pickle is ready to be relished. The right taste of pickle comes after 3 days.Keep the pickle in a food grade plastic container or any glass container and you can relish it for 3 to 4 months.

Suggestion :
You can cut the chilies with scissors as it is convenient.
Adjust the quantity and choice of veggie as desired.
You can keep it in sunlight for 1 to 1 and 1/2 hours or keep it under fan for 1 hour or more.
Do not roast the spices too much, just till the moisture goes off.
Instead of Blanching the veggies, can also add salt to it and keep it., so it juice comes out, then remove it and make pickles,or wash well and cut the veggies, keep it over cloth and dry in sunlight, for over 3 to 4 hours, then make pickle.
Adding vinegar enhances the flavors of the pickle.
Container for pickle should be dry and clean.
Sterilize the container first, then dry it in sun, then fill the pickle. Your hands should also be dry.

Tags
Categories
Gajar, Shalgam, Gobi Ka Achar | Shalgam Gajar Mix Veg Pickle
Nisha Madhulika
Rating:

5.00

out of

5