Corn Capsicum Masala | Sweet Corn Capsicum Masala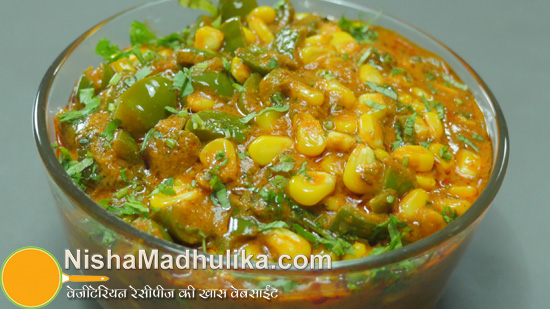 Corn Capsicum Masala is a very delicious and Crunchy sabzi. Kids too relish eating sweet corn, they will relish this too.
हिंदी में पढ़िए - शिमला मिर्च मकई मसाला । Corn Capsicum Masala | Sweet Corn Capsicum Masala
Ingredients for Sweet Corn Capsicum Masala
Sweet corn - 1 cup
Chopped Capsicum - 2 (150 gms )
Tomatoes - 2 (150 gms )
Green Chilies - 2
Cashews - 10 to 12
Green Coriander - 2 to 3 tbsp (finely chopped)
Ghee - 2 tbsp
Cumin seeds - 1/2 tsp
Turmeric Powder - 1/4 tsp
Red chili powder - 1/4 tsp
Ginger paste - 1/2 tsp
Coriander powder - 1 tsp
Garam Masala - 1/4 tsp
Salt - 1 tsp or to taste
How to make Corn Capsicum Masala
Take 2 tomatoes 2 green chilies,add 10 to 12 cashews, grind and make paste from it.
Take a pan Add 2 tsp ghee and heat it. Then add 1/2 tsp cumin seeds,1/4 tsp turmeric powder. Keep flame low. Add 1 tsp coriander powder,1/2 tsp ginger pasteAdd the chili- tomato - cashew - paste, add 1/4 tsp red chili powder.Roast the masala till the ghee floats over the masala. Keep stirring and checking it at regular intervals.
Meanwhile to cook the corn and capsicum. Heat a pan, turn on flame.Keep the flame low. Add 2 tsp ghee. When rightly hot add corn and capsicum. Add 1/2 tsp salt. Roast it at regular intervals and cook until crunchy. Then turn off flame.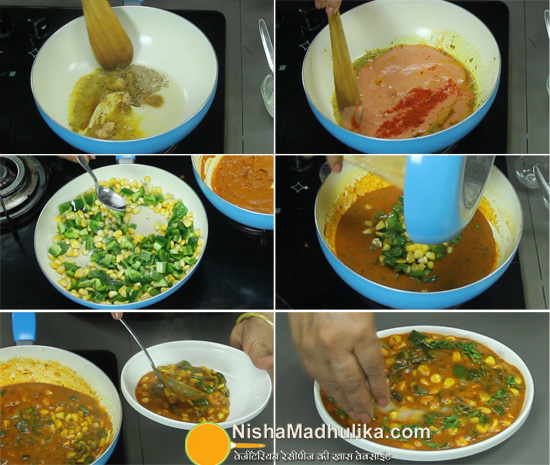 When masala is roasted well, Add 3/4 cup water to the masala. Add 1/2 tsp salt.Add 1/4 tsp garam masala. Add a little green coriander, stir well. Add capsicum corn to the gravy. Cover and cook it for 4 to 5 minutes on low flame.
After 5 minutes, check the sabzi. Sweet corn shimla mirch sabzi is ready.
Take the sabzi in a bowl, Pour 1 tsp ghee over it and garnish with green coriander. You can serve it with,chapati, paratha, naan or rice.
Suggestion :
If you prefer the sabzi spicy, you can add more red chili powder if desired.
You can use oil if desired or onion garlic too.
Corn Capsicum Masala | शिमला मिर्च मकई मसाला । Sweet Corn Capsicum Masala

Tags
Categories
Corn Capsicum Masala | Sweet Corn Capsicum Masala
Nisha Madhulika
Rating:

5.00

out of

5