Shalgam Gajar ka Paniwala Achar | Mix Veg Paniaala Pickle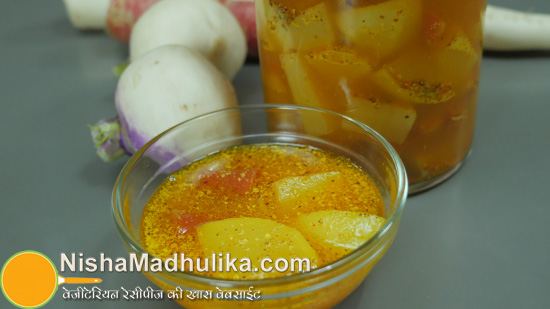 Turnip, carrot and radish mixed pickle is a mouth drooling recipe to relish.

हिंदी में पढ़िए- Shalgam Gajar ka Paniwala Achar | मिक्स वेज पानी वाला अचार । Mix Veg Paniaala Pickle
Ingredients for Mix veg Panialla Pickle :
Peeled Turnip - 2 ( 200 gms)
Peeled carrots - 2 (200 gms)
Peeled Radish - 1 ( 100 gms)
Mustard oil- 2 tbsp
Vinegar - 2 tbsp
Salt - 1.5 to 2 tsp or to taste
Black mustard - 3 tsp (coarsely ground )
Fennel seeds - 1 tsp (coarsely ground )
Red chili powder - 1/2 tsp
Turmeric powder - 1/2 tsp
How to make Pani wala Achar
Put 3 cup water in the vessel,almost 600 ml, enough to dip the veggies. Put to flame and boil it.
Take peeled, washed and pat dried turnips, carrots, radish. Cut into 1 inch pieces.
Put the veggies in water and cover it. Cover it for exactly 3 minutes, after that turn off flame.
Keep the veggies covered for 5 minutes.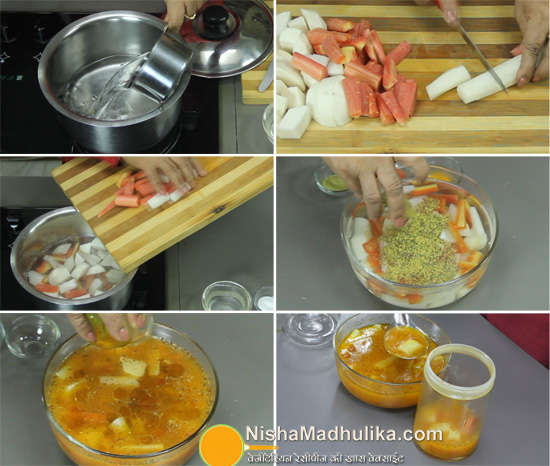 After 5 minutes keep the vessel aside to cool.Take out all in a bowl.
Add spices such as salt, black mustard, fennel powder,red chili powder, turmeric powder.Add mustard oil,vinegar. Mix all.
Shalgam Gajar mooli ka pani wala achar is ready.Put the pickle in a sterelized container. You can eat this pickles for upto 2 months.
Suggestion:
You can keep the pieces, big or small as desired.
You can use Raai or sarson.
If you do not like the pungency of the mustard oil, then you can slightly heat it and use it when it cools off.
You can make it even without vinegar,but that reduces the shelf life. You need to finish it within 10 to 12 days.
You can make the pickle with each individual veggie too.
Sterilize the container in boiling water and dry it in sun before keeping the pickle.
Any container, spoon or vessel used must be clean and dry.
Shalgam Gajar ka Paniwala Achar | मिक्स वेज पानी वाला अचार । Mix Veg Paniaala Pickle

Tags
Categories
Shalgam Gajar ka Paniwala Achar | Mix Veg Paniaala Pickle
Nisha Madhulika
Rating:

5.00

out of

5