Methi Ke Ladoo । Methi Coconut Laddu Recipe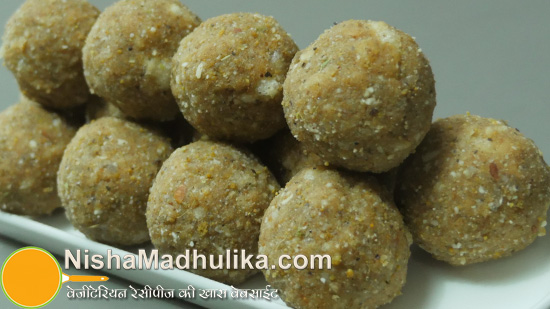 Methi Ladoo is very benefecial for health in this season. Older people should specially eat it. It keeps away many illness and keeps you fit. Try different kind of medicinal and yummy ladoo.
Ingredients for Methi Coconut ladoo recipe
Fenugreek seeds - 3/4 cup (100 gms )
Almonds - 3/4 cup (100 gms )
Edible gum - 1/2 cup (100 gms )
Jaggery - 2 cups (400 gms ) (crumbled )
Wheat flour - 1cup (150 gms )
Dry coconut - 2 cups ( 100 gms ) (grated )
Ghee - 1 cup (200 gms )
Green cardamom - 1 tbsp (5 gms )
White pepper/ Black pepper - 1 tbsp (5 gms )
Long peepar - 7 to 8 ( 5 gms )
Ginger Powder - 2 tbsp ( 5 gms )
How to Make Methi Ladoo :
Take 100 gms Fenugreek seeds,washed and cleaned. Finely grind it and soak in 100 gms milk for 3 to 4 hours.
Take a pan, turn on flame. Add 3 to 4 tbsp ghee to melt. Then add the milk soaked fenugreek in the ghee.Stir and roast it on medium flame till it changes color. Fenugreek seeds powder is roasted well for 7 to 8 minutes. Ghee has separated. Take it out in a separate bowl.
Pour 2 to 3 tbsp ghee in the wok. Add wheat flour after ghee melts. Stir and roast the flour well on low flame till it is golden brown. Flour is roasted in 12 minutes. Keep the wheat flour in same bowl as fenugreek.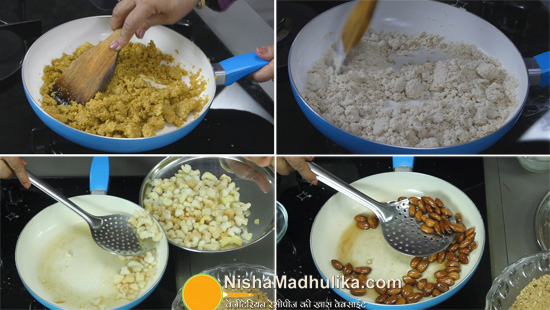 Pour ghee in a pan, let it melt. Roast edible gum in less hot oil. Take it out in a plate.
Add almonds to the ghee and slightly roast on low flame for 2 minutes. Once roasted kepp it in a plate.
Take 2 cup dry coconut.Stir and roast it on low flame for 2 minutes. then keep it in a thali.
To melt jaggery, turn on flame, add 2 tsp ghee to the pan. Add jaggery to it, stir till it melts completely. Keep flame low. Keep stirring till it melts. Turn off flame.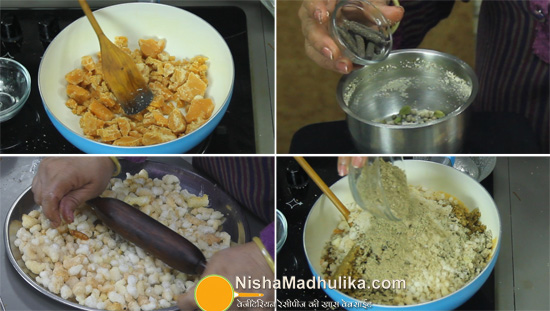 Put almonds to the jar, grind well. Keep with the flour. Take 1 tbsp green cardamom.Add 1 tbsp white pepper,almost 7 to 8 peepar,2 tbsp ginger powder, grind well.
Press the edible gum with a rolling pit to break it.

Mix all ingredients, jaggery and flour.
Bind it when slightly warm. 34 ladoos can be made with this quantity of ingredients.
Healthy Methi Ladoos are ready. Relish these with your family this winter.
Suggestion :
Soaking fenugreek in milk reduces sourness of fenugreek.
Frying edible gum in less hot ghee, keeps it puffy.
Press and break edible gum with a rolling pin.
Using peepar in ladoo is beneficial for winters.
You can add dessicated coconut even without grinding.
Do not grind the edible gum in mixer, break with rolling pin.
Methi Ke Ladoo । मेथी नारियल के लड्डू । Methi Coconut Laddu Recipe

Tags
Categories
Methi Ke Ladoo । Methi Coconut Laddu Recipe
Nisha Madhulika
Rating:

5.00

out of

5