Curd Gravy - Basic Gravies Part- 1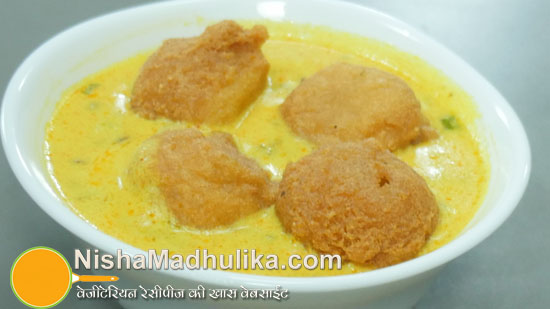 Sabzi when made with variety of gravies adds up more flavors to your menu. Enjoy this unique type of Curd Gravy.
Ingredients for Dahi ki Tari
Whisked curd - 1/2 cup
Chickpea flour - 1 tsp
Oil - 2 tsp
Cumin seeds - 1/4 tsp
Asafoetida- Less than 1/2 pinch
Turmeric powder - 1/4 tsp
Coriander Powder - 1/2 tsp
Red chili powder - 1/4 tsp
Green chili - 2 (finely chopped)
Salt - 1/4 tsp or to taste
Green coriander- 2 to 3 (finely chopped)
How to make Gravy with Yogurt
Take ½ cup whisked curd and 1 tsp chickpea flour for making the gravy. Mix well until lumps dissolve.
Take a pan, add 2 tsp oil to the pan. When oil is sufficiently hot add ¼ tsp cumin seeds. Add less than ½ pinch of asafoetida. Keep flame low. Add ¼ tsp turmeric powder, ½ tsp coriander powder, add ¼ tsp red chili powder and sauté the masala for a while.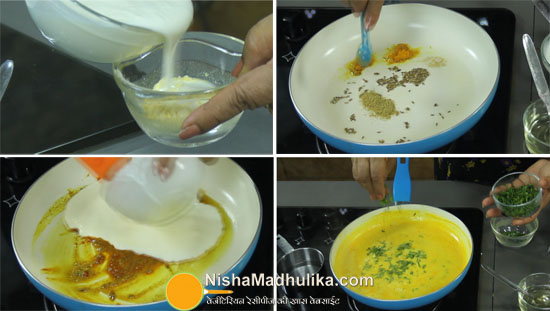 Add chickpea flour mixed curd. Cook until it simmers. Add ½ to ¾ cup of water as the desired consistency of gravy.
Keep stirring constantly until the gravy starts simmering again. add 1 to 2 finely chopped green chilies. add ¼ tsp salt or to taste. Simmer for 2 more minutes. Add some green coriander. Turn off the flame. Transfer the gravy to the bowl. Add pakoris to the gravy.
Basic Gravies for Curry - Part 1 । विभिन्न प्रकार की ग्रेवी - 1 । Vegetarian Curries and Gravies

Tags
Categories
Curd Gravy - Basic Gravies Part- 1
Nisha Madhulika
Rating:

5.00

out of

5