Baingan Bharta Recipe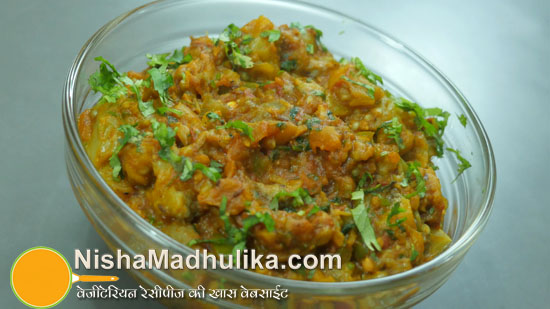 Baigan bharta is usually made by roasting it. Everyone relishes eating it. Do try making this unroasted Baigan bharta by cutting and checking it. You will enjoy this innovative bharta in every bite.
हिंदी में पढ़िए - बैंगन भर्ता - बैंगन को साबुत भूने बिना बनाईये। Baingan Bharta Recipe
Ingredients for Baigan bharta recipe
Eggplant - 1 (400 gms)
Tomatoes - 4 (150 gms)
Capsicum - 1
Cumin seeds - 1/2 tsp
Asafoetida - 1/2 pinch
Green chilies - 2 (finely chopped )
Ginger - 1/2 inch piece (finely chopped )
Mustard oil - 2 tbsp
Green coriander - 2 to 3 tbsp (finely chopped)
Garam masala - 1/4 tsp
Red chili powder - 1/4 tsp
Turmeric powder - 1/4 tsp
Coriander powder - 1 tsp
Salt - 1 tsp or to taste
How to make Unroasted Baingan Bharta
Wash and peel a eggplant, cut it in smaller pieces. Put the pieces of eggplant in water to prevent them for turning black.
Finely chop the tomatoes, capsicum.
Place wok to heat. Once hot add mustard oil to it. Add cumin seeds to it.Reduce flame. Add asafoetida, turmeric powder. Add finely chopped green chili, ginger.
Slightly roast the spices.Add tomatoes to it,add red chili powder, coriander powder. Roast the spices well till the tomatoes are mashed and oil starts separating from it. Stir it at reguar intervals. Keep flame medium.
Once spices are roasted, add chopped capsicum to it.Roast it slightly.Add eggplant to it.Add salt, stir it.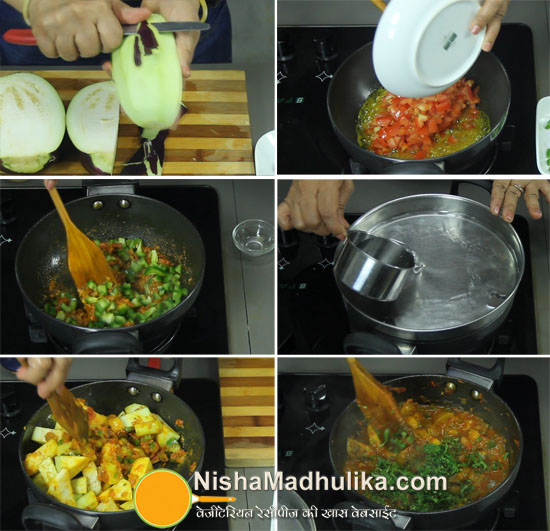 Cover and cook it for 4 to 5 minute, put water in the plate covered.The steam in the eggplant, will cool off and will eventually mix, you won'tneed to add extra water.
After 5 minutes, check the bharta.Stir the bharta well.Cover and cook it again the same way for 5 minutes. Bharta is watery. Mash the bharta well.Add garam masala and green coriander as well.Mash it.Turn off flame.
Yummy and tempting Unroasted Baigan bharta is ready.Garnish the bharta with some green coriander.You can serve it with chapati , paratha, rice or naan.
This quantity of bharta is suffecient for 3 to 4 members of family.
Suggestion :
Take a bharta baigan, check it is smooth and shiny,If you press it ith finger you can see that
it is pressed well.
You can also take any cooking oil instead if desired.
If you do not prefer turmeric, capsicum or asafoetida in bharta, you can skip it.You can use onion garlic if preferred.
When you cut eggplant dip it in water else it turns black.
Baingan Bharta Recipe | बैंगन भर्ता - बैंगन को साबुत भूने बिना बनाईये

Tags
Categories
Baingan Bharta Recipe
Nisha Madhulika
Rating:

5.00

out of

5