Palak Poori Recipe Besan Wali - Spinach Masala Poori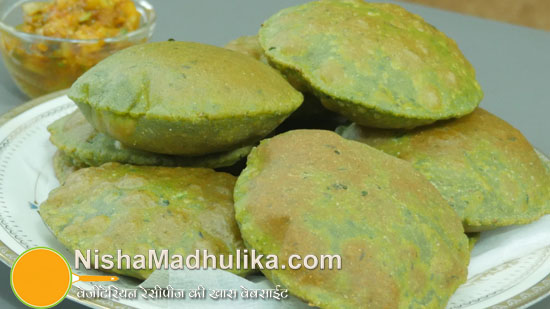 You relish the Missi poori made from healthy and nutritious Spinach. Enjoy this simple recipe of Palak Missi poori.
हिंदी में पढ़िए - मिस्सी पालक पूरी - Palak Poori Recipe Besan Wali - Spinach Masala Poori
Ingredients for Palak Poori recipe Besan wali
Spinach – 2 cup ( 200gms) chopped
Wheat flour – 1 cup ( 150 gms)
Chickpea flour – ¼ cup ( 25 gms)
Semolina – 2 tbsp (25 gms )
Oil- 2 tbsp
Carom Seeds- ¼ tsp
Salt – ½ tsp ( or to taste )
Oil – for frying
How to make Spinach Masala Poori
Take spinach, separate the stalk from leaves, rinse them thoroughly and pat dry them. Roughly chop the spinach leaves prior grinding.Place the leaves into the jar, followed by little water to grind them easily.Grind the leaves finely.
Take wheat flour in a big mixing bowl. To it add chickpea flour, semolina, salt or to taste and carom seeds. Add oil and the prepared spinach puree to it too. Mix the flour with puree first and if required use water. Knead a stiff dough for the poori. We have used 2 to 2.5 tbsp of water for kneading this much quantity of flour, which was added while grinding the spinach earlier. Cover and keep the dough aside for 20 to 25 minutes to set.
After 20 minutes the dough is ready. Grease your hands with a little oil and knead it again.Divide the kneaded dough into two equal halves and make a long log . Make small lumps from the dough. Take one dough lump and roll into dough ball. Flatten a little giving it shape like a peda. Similarly prepare remaining dough balls as well.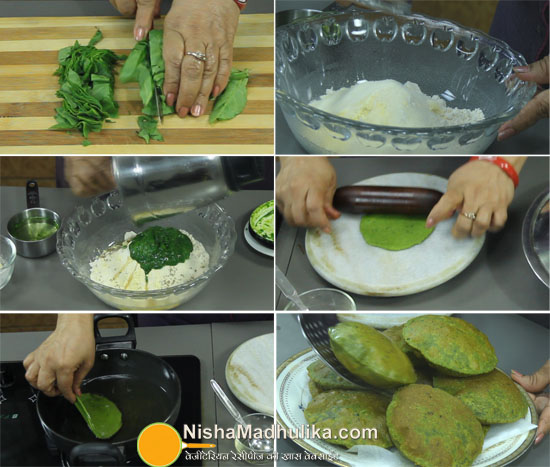 Heat oil in a wok to fry the pooris . Take a dough ball, apply some oil over it and on the rolling board as well. Press down the dough ball with your hand and roll out into round poori with 3 to 4 inch diameter. Lift the poori and keep rolling it out from the edges.
Check if the oil is sufficiently hot. Drop little dough lump into the oil.It has started floating on the surface immediately that means the oil is heated nicely. Gently slide the poori into the oil. Press the poori very gently to puff it up.
When the poori turns puffy, flip the side and continue frying until it gets little spots and little brown in color.When the poori is golden brown and ready. Take it out in a plate. Similarly fry remaining pooris as well. With this much dough we have prepared 12 pooris.
Steaming hot, crispy and mouth drooling spinach missi pooris are ready. Serve these tempting pooris with curd, chutney, pickle or any favorite sabzi and everyone will relish eating them for sure.
Suggestion:
Make sure you roll out the poori from the edges and not from the center.
While kneading the dough make sure you knead a little stiff dough.
Make sure that the oil is sufficiently hot.
When the oil is heated rightly, reduce the flame to medium and then fry the pooris. You will get nicely puffed pooris.
Palak Poori Recipe Besan Wali - Spinach Masala Poori - मिस्सी पालक पूरी

Tags
Categories
Palak Poori Recipe Besan Wali - Spinach Masala Poori
Nisha Madhulika
Rating:

5.00

out of

5