Pineapple Halwa - Pineapple Sheera - Ananas Ka Meetha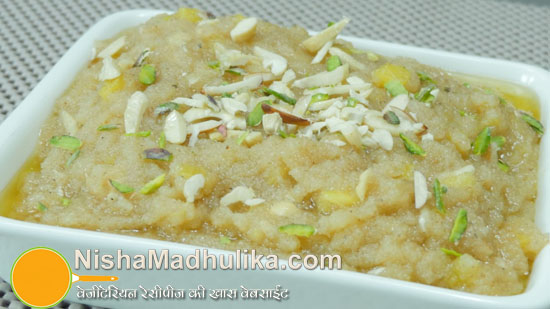 You might have enjoyed eating semolina halwa , carrot halwa, etc but here is a unique and delicious Pineapple Halwa recipe for you.
हिंदी में पढ़िए - अनन्नास का हलवा -Pineapple Halwa - Pineapple Sheera - Ananas Ka Meetha
Ingredients for Ananaska halwa :
Finely chopped Pineapple - 3/4 cup (100gms)
Roughly chopped Pineapple (paste) - 3/4 cup (100 gms)
Semolina - 1/2 cup (100 gms)
Sugar - 1/2 cup (125 gms)
Ghee - 1/2 cup (100 gms )
Almond - 10 to 12 (finely chopped)
Cashew nuts - 10 to 12 (finely chopped)
Green cardamom (powder) - 4 to 5
Pistachio - 8 to 10 finely chopped)
How to make Pineapple sheera
Put Pineapple chunks in the mixer jar to make a fine paste.
To roast the semolina, add some ghee to wok and let it melt, add semolina to the pan and stir constantly until it gets golden brown.
Ghee has started separating from it. Once fragrant and golden brown,it is roasted well, transfer to plate and turn off flame.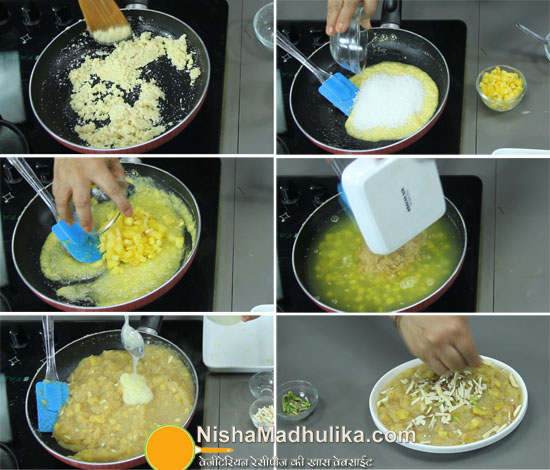 To make pineapple halw transfer the pineapple paste to the pan, turn on the flame. Add ½ cup (125 grams) sugar. Add the finely chopped chunks of pineapple to the pan as well. Continue cooking until sugar dissolves and the pineapple chunks are tender.
Add 2 cups of water into it, followed by roasted semolina. Cook the mixture on low flame until the semolina puffs up, cook for 3 to 4 minutes.
Stir it gently on medium flame. Finely chop the cashews, almonds and pistachios. Add dry fruits to the halwa ,cardamom powder and mix everything well. Cook halwa until it gets thick and dense in consistency.
Once ready add 2 tsp ghee into the halwa. Mix well. Transfer it to a plate.
Pour 1 tsp ghee more to the halwa. Then garnish the Pineapple Halwa with chopped cashews, almonds and pistachios. This much quantity of halwa is sufficient for 4 to 5 family members. This delectable pineapple halwa can be consumed for up to 4 to 5 days. You can prepare this halwa for any special occasion or any special party or try out making this halwa whenever you crave for a halwa with different flavor.
Suggestion:
Adding ghee from the top enhances the taste of halwa.
To enhance the color of halwa, add 1/2 pinch yellow food color.
Pineapple Halwa - अनन्नास का हलवा - Pineapple Sheera - Ananas Ka Meetha

Tags
Categories
Pineapple Halwa - Pineapple Sheera - Ananas Ka Meetha
Nisha Madhulika
Rating:

5.00

out of

5