Mirchi Methi Dana Recipe - Spicy chili with Fenugreek Seeds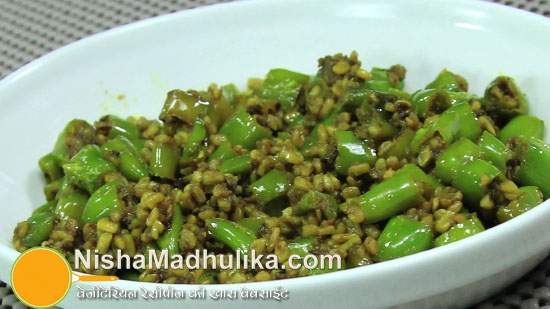 Many a people pinch their nose at Methi dana. But try this special recipe of Mirch Methi dana i am sure you will relish its spicy taste.
हिंदी में पढ़िए - मिर्ची और मेथी दाने की चटपटी सब्जी - Mirchi Methi Dana Recipe - Spicy chili with Fenugreek Seeds
Ingredients for spicy Chili with fenugreek seeds :
Green Chili - 100 gm
Soaked Fenugreek Seeds -2 tbsp
Oil - 2 tbsp
Cumin seeds -1/2 tsp
Asafoetida - 1 pinch
Coriander powder -1 tsp
Fennel powder - 1 tsp
Turmeric Powder - 1/4 tsp
Mango Powder - 1/2 tsp
Salt - 1/2 tsp or as per taste
How to make Mirchi Methi Dana
Also take 2 tbsp fenugreek seeds, wash and soak in water for 4 hours.
Wash and pat dry 100 gms Green chili. Cut off the stalk from the chilies and chop into small chunks.
Heat a pan and add oil into it. Add cumin seeds, asafoetida, turmeric powder, coriander powder, fennel powder followed by chopped green chilies. Add salt and stir well. Also add mango powder and mix all the ingredients really well.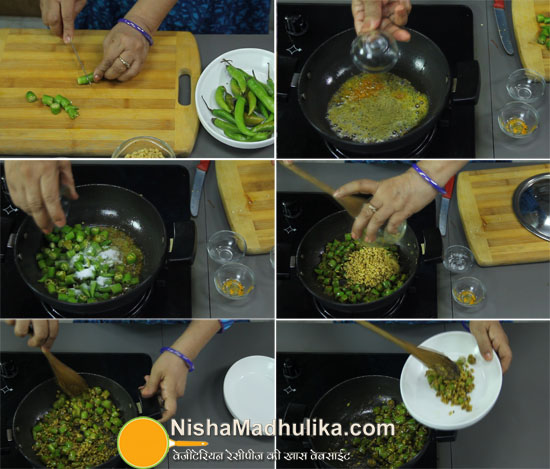 Cover and cook for 2 minutes. After 2 minutes stir the chilies nicely. Add soaked fenugreek seeds into it.Turn off the flame and take out chilies in a plate.
Serve along with your meals, everyone will like it for sure.These tempting fenugreek chilies can be stored for up to a week in refrigerator.
Mirchi Methi Dana Recipe - मिर्ची और मैथी दाने की चटपटी सब्जी - Spicy chili with Fenugreek Seeds

Tags
Categories
Mirchi Methi Dana Recipe - Spicy chili with Fenugreek Seeds
Nisha Madhulika
Rating:

5.00

out of

5