Mango Custard Recipe - Fruit Custard with Mango - Mango Custard Delight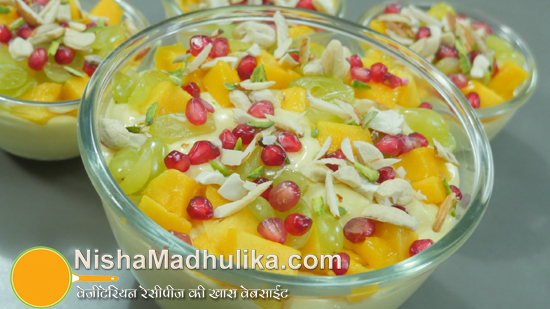 Ripe mango , vanilla custard powder, cream and garnished with fresh fruits. It looks appealing and tastes delicious too.
हिंदी में पढ़िए - मैंगो कस्टर्ड - Mango Custard Recipe - Fruit Custard with Mango - Mango Custard Delight
Ingredients for Mango Custard delight:
Ripe Mango - 2 (600 gms)
Vanilla Custard Powder -2 tbsp (20 gms) 
Sugar- 1/2 cup (100 gms) 
Grapes - 1/2 cup 
Pomegranate - 1/2 cup 
Fresh Cream - 1 cup (200 gms)
Chopped Cashew - 1/4 cup 
Almonds - 8 to 10 tbsp
Pistachios - 15 to 20 
Milk - 1/2 ltr
How to make Fruit custard with Mango
Take 2 tbsp custard powder in a bowl, add 3 to 4 tbsp milk in a bowl. Mix well till lumps dissolve.
Keep the milk to boil. When there is boil in milk reduce the flame. Pour the custard powder mix into the boiling milk, and stir well so that it doesn't stick to bottom. Cook the milk and custard powder mix for 6 to 7 minutes.
After 6 minutes turn of flame and place it over net stand to cool. Stir it regularly to prevent layer of cream from forming.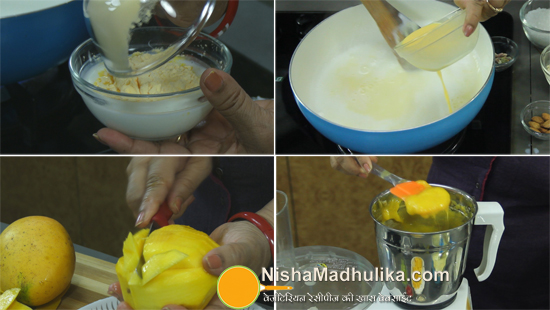 Take 2 ripe mangoes, which do not have threads, we have taken safeda mango. Peel and cut the mango. Cut a few small slice of mango to garnish the Mango custard. Cut bigger pieces for paste.Take ½ cup grapes chop them, take chopped cashews.
Chop almond and pistachios cut the almonds thinly and make 7 to 8 pieces out of it.
Put the mango chunks in mixer jar, add ½ cup sugar, blend to make a paste.
To whip the cream Take few ice cubes in a bowl place another bowl over it. Take 1 cup ( 200 gms ) fresh cream, put it in a bowl. First we put the machine to no 1 for 2 minutes, then on no 2 for 2 minutes and on no 5 for 2 more minutes. We whipped it for 6 minutes.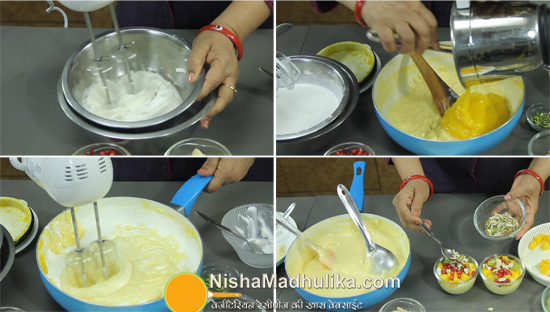 Pour the mango sugar paste in the wok. Mix all the ingredients in the wok because it is easier to mix the ingredients. Mix it well once more with a blender.
Fill the bowl with custard then garnish with mango pieces, grapes and pomegranate seeds. Then add chopped cashews almonds and pistachios. Place it in the freezer for 1 hour to cool down and then serve it. After an hour take out the custard and relish it with family and friends. This quantity serves 6 to 8 people.
Suggestion:
Here we find Safeda mangoes easily which we have taken, you can take any mango near you , which doesn't have threads, like dusseri or alphonso or any type.
Using grapes and pomegranate is optional, you can use any fruits available at home, like strawberry, kiwi which tastes very good.
You can whip it with a hand blender, or manually too. Because very dense cream is not required for the custard but slightly dense.
Mango Custard Recipe - मैंगो कस्टर्ड - Fruit Custard with Mango - Mango Custard Delight

Tags
Categories
Mango Custard Recipe - Fruit Custard with Mango - Mango Custard Delight
Nisha Madhulika
Rating:

5.00

out of

5