Rava Cutlets - Veg Suji Cutlet Recipe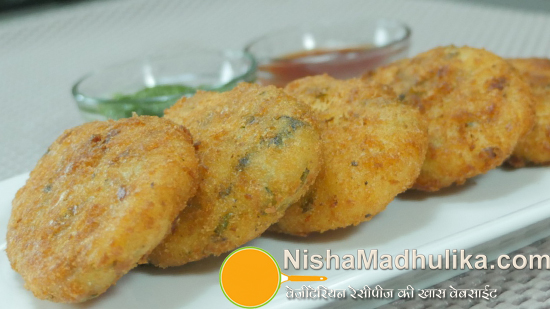 Suji veg cutlets- Perfect starter for any party or occasion. Crisp on outside and soft on the inside these will make you a star among all.
हिंदी में पढ़िए - सूजी वेज कटलेट - Rava Cutlets - Veg Suji Cutlet Recipe
Ingredient for veg cutlet suji recipe
Semolina - 1 cup
Capsicum - 1/2 cup (finely chopped)
Grated carrot - 1/2 cup
Cauliflower - 1/2 cup (finely chopped)
Refined flour - 2 tbsp
Green coriander - 3 to 4 tbsp (finely chopped)
Green chili - 2 (finely chopped)
Ginger paste - 1 tsp
Salt - 1 tsp or to taste
Black pepper - 1/4 tsp (coarsely ground)
Bread crumbs - 2 slices
Oil - for frying
How to make Rava Cutlet
For dough of semolina and veggies, Heat a pan with 2 tsp oil and then to it add 1 tsp ginger paste, 2 green chilies (finely chopped), ½ cup of cabbage (finely chopped), ½ cup grated carrot, ½ cup finely chopped capsicum and sauté all the veggies well for 1 to 1.5 minutes.
Take 2 tbsp refined flour in a bowl and add little water to it. Mix it well till it becomes smooth. Add water in less quantity first and mix the batter well. Adding too much water all at once makes difficult to remove lumps from the batter. For 2 tbsp of refined flour 4 to 5 tbsp of water is used. We need a batter with running consistency.
Now add 2 cups of water to the pan followed by ¾ tsp salt or to taste. Cover with the lid to bring it to boil quickly.When the water starts simmering, add 1 cup of semolina to it. Mix it well and turn of the flame. Cover the vessel and keep aside for 5 minutes to set.
To the refined batter add ¼ tsp salt or to taste, ¼ tsp coarsely ground black pepper powder and mix well.
After 5 minutes remove the lid and stir the dough nicely. Add a little chopped green coriander to it and mix well.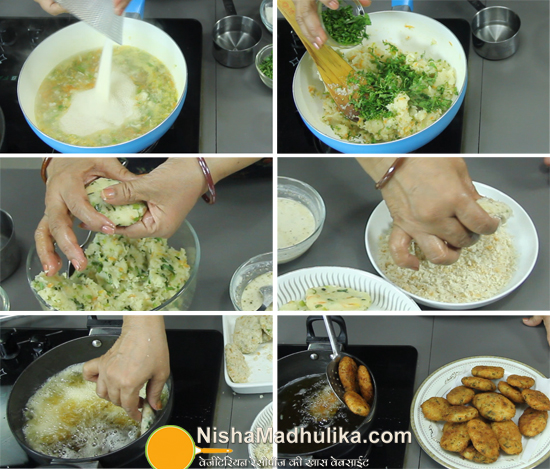 Shape the cutlets
Transfer the dough into a bowl to let it cool down and then start making the cutlets. Meanwhile take oil in a wok and place it in flame for heating. Keep the flame low.To make cutlets, grease your hands with some oil and pinch small lump from the dough. Bind the dough into a round dough ball and then flatten it gently giving it a square shape. Keep these cutlets a bit thin and not very thick. Thin cutlets come out crunchier and tasty.
For making oval shape cutlets, roll the dough into a long log shape and then press it gently little thin and give an oval shape. Cutlets are ready. Likewise continue making the cutlets until the whole dough is utilized.
Now coat the prepared cutlets with bread crumbs. First dip the cutlet in the refined flour batter, and then cover it in bread crumbs. Press the cutlets slightly with your hands to set the bread crumbs nicely. Cover all the cutlets with bread crumbs.
Put oil in wok to heat. Check if the oil is sufficiently hot for frying the cutlets. For this place your hand over the wok and check if it is hot enough. Oil is hot enough as you can feel the heat on your hand.Gently slide the cutlets into the oil to fry. Put the flame to medium. Press the cutlets and slide them into oil. Slide as many cutlets as possible into the wok. Fry the cutlets till they turn golden brown in color, flip the sides and continue frying.
When cutlets are golden brown, tilt the cutlet with a slotted ladle on the side of the wok so the extra oil drains back to the wok. Place the cutlets on a plate covered with absorbent paper to remove excess oil. Similarly fry rest of the cutlets as well.
Crispy on outside and soft inside semolina cutlets are ready. It takes 5 minutes to fry the cutlets at once.Serve these tempting, crispy and scrumptious sooji cutlets with an Indian chutney or dip like green coriander chutney, tomato sauce, sweet chutney or any chutney of your choice as a snack or in breakfast.
Suggestions:
We have used capsicum, cauliflower and carrot but you can use any other vegetable as according to your choice and availability like cabbage, mushroom, baby corn and kernels.
We have used thick semolina for making cutlets. You can also use fine semolina as well.
Cutlets can be made big or small as according to choice. These can be given round, square or oval shape as desired.
To make the bread crumbs take 2 to 3 bread slices and grind them in a mixer jar.
Make sure you add water in measured quantity. If semolina is 1 cup, add 2 cups of water.
If you are preparing them for a party, then keep the entire cutlets ready, dipped in batter, covered with bread crumbs and place them in the fridge. Fry them prior the start of party; these will be relished by all.
Rava Cutlets - सूजी वेज कटलेट्स - Veg Suji Cutlet Recipe

Tags
Categories
Rava Cutlets - Veg Suji Cutlet Recipe
Nisha Madhulika
Rating:

5.00

out of

5