Sonth | Saunth | Dry Ginger । Ginger Powder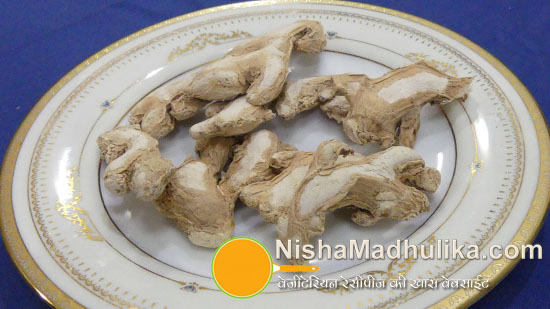 Saunth is just dried ginger. Its powder is known as ginger powder. The ginger pieces used as spices are basically ginger roots. Ginger roots are basically taken out from the soil and washed well and then it is used.
हिंदी में पढ़िए - सोंठ । Sonth | Saunth | Dry Ginger । Ginger Powder
Alternative names of Saunth
Saunth is known as sukku in tamil, chukku in malyalam. In kannad it is known as shunti, suntha in marathi and soonth in gujrati.
Uses of Dry Ginger
Saunth is used to add flavor to recipes. It has a distinct aroma, which makes the food more tempting.
Saunth laddoo is a traditional which is used medicinally. It is mostly given to new mothers after childbirth. Saunth reduces the body ache. It is also used as medicine for joint pains. Make and serve saunth ladoo to elders, it prevents you from diseases.
Various ways to use Saunth
Saunth is used in various ways. When it is used as a spice it is crushed or grated and used. These days you also get saunth powder available in the market. You can use it to add more flavor to your food.
Saunth for health
Saunth is also mentioned in Ayurveda. This has warm effects and so it is beneficial for cough and cold. When you have a bad throat,it gives you relief.Having saunth brings freshness and energy to the body.
Use of Saunth according to weather
Saunth has a warm effect. People mostly use it during winters. Saunth mix tea gives warmth to body during winters. It is healthy to use it during winters. It can used as needed during summers too. Using saunth in larger quantity can have bad effects on health.
Use of Saunth in Recipes
Saunth Chutney -
Buknu -
Harira -
Methi Ladoo -
Panjiri for new mothers -

Tags
Categories
Sonth | Saunth | Dry Ginger । Ginger Powder
Nisha Madhulika
Rating:

5.00

out of

5