Raw Mango Spicy Papad - Kairi ka Spicy Papad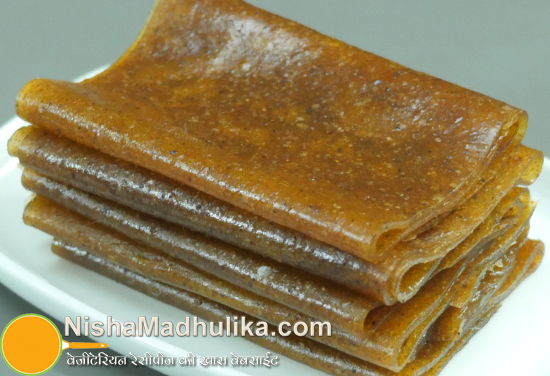 Tangy and Mouth drooling Raw Mango Papad, very easy to make at home.
हिंदी में पढ़िए - कच्चे आम का चटपटा पापड़ - Raw Mango Spicy Papad - Kairi ka Spicy Papad
Ingredients for Kairi ka Spicy Papad
Raw mangoes- 4 ( 750 gms)
Sugar – ½ cup ( 125 gms )
Ghee – 1 tsp
Garam masala – 2.5 tsp
Black alt- 2 tsp ( or to taste )
Red chili powder- ¼ tsp ( optional )
How to make Raw Mango Spicy Papad
Take raw mangoes, peel and cut them and take out the pulp. Cut small pieces.
Take a vessel , put the mango pieces in it, pour 1 cup water too. Then turn on the flame. Cover and boil the mangoes for 4 to 5 minutes until they are soft.
Boil for a few more minutes if they are not soft.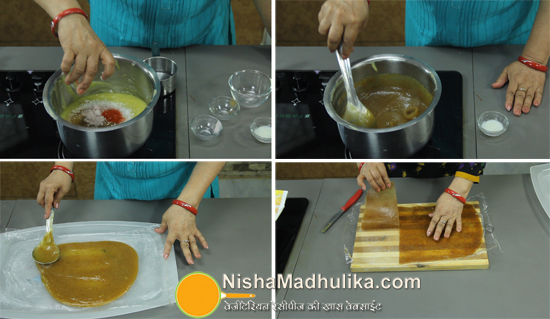 let the mangoes cool down, then grind them. To grind them first of all strain them through a strainer so that the fibers are removed. Remove the fibers from the strainer and place the pulp back in the same vessel.
Turn on the flame, and add sugar into it, garam masala powder, black salt and take red chili powder. Cook the pulp while mixing all the ingredients, so that the sugar dissolves and the pulp becomes dense. We cooked it for 3 to 4 minutes. Turn off flame.
Once the pulp is ready, to spread the mango sheet we need a polythene sheet and place it over a tray, take a little ghee and grease the sheet with it, spread a light coating of ghee on it, polythene sheet is smooth and ready, pour the paste on the sheet.Spread it over thinly with a ladle.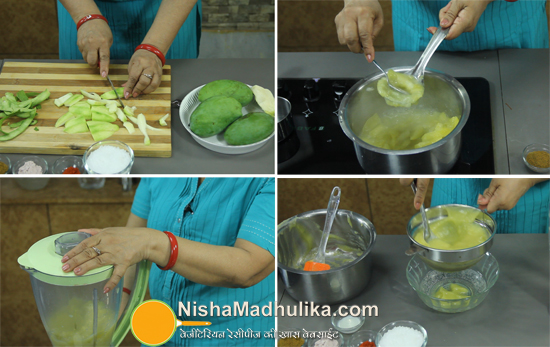 To dry them either place them under the fan or in sunlight with the aam papad covered with a thin cloth so that there is no dust sticking to it.
Mango Papad is dried and ready, it easily comes out off the polythene sheet,lift it and place it on the board, and cut it into desired size, you can cut it easily like this, place it like this, to cut equal stripes, remove the extra part from it, mango papad is cut into pieces. Separate it fro the other sheet as well and cut it likewise.
Sumptuous Mango papad is ready, You can store this Mango Papad and eat it for 2 to 3 months, it tastes delicious, Making them is really easy. Give it to kids, I am sure they will relish every bite of it.
Suggestion:
Strain the mango pulp so that the fibers are removed and nice Mango papad are prepared.
You can skip using red chili powder if desired.
You can make the mango papad thick or thin as desired.
You can keep them under a fan to dry or in sunlight, but there should be no wind,so that there is no dust on the mango papad.
When it becomes a little dry you can place a thin cloth over it and dry in sunlight,
Raw Mango Spicy Papad - कच्चे आम का चटपटा पापड़ - Mango Papad Recipe

Tags
Categories
Raw Mango Spicy Papad - Kairi ka Spicy Papad
Nisha Madhulika
Rating:

5.00

out of

5