Pomegranate seeds- Anardana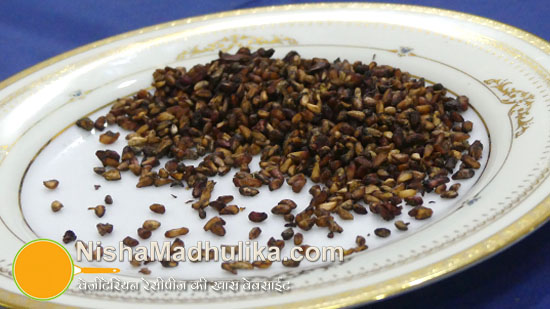 Pomegranate seeds
Pomegranate seeds is obtained from Pomegranate plant. Pomegranate is a yummy fruit and is filled with juice, its seeds are dried up and Anardana Masala is made. The Pomegranate seeds are red , pink and white in color.
Pomegranate has carbohydrate, protien , vitamin A , C. Also has high, phosphorus, magnesium, pottasium , calcium and iron content. Pomegranate also has anti oxidant and anti viral effects which improve the immunity.
What does Pomegranate seeds look like.
Pomegranate seeds are dark red or dark brown in color, It is either dry or slightly moist when available. It is also available as dry pomegranate seeds powder.
Culinary uses of Pomegranate seeds
Pomegranate seeds is used as a spice in certain recipes. The seeds are dried up, and used as a spice for tangy and tasty flavor. Dry Pomegranate seeds are mostly used in recipes like Punjabi chole. It is also used in recipes like aloo sabzi , dal and chana.
You can also use it in a chutney or for garnishing of soups , salads. Pomegranate seeds are also used for making digestive pills, which improves digestion and is liked by kids too.
Where to find Pomegranate seeds
You can easily find Pomegranate seeds at any grocery store. You can even purchase it online.
Pomegranate seeds are sold loose or also available as spice. While buying make sure that it is aromatic and fresh. If you are buying the packaged version then do check the manufacturing and expiry date.
Storage of Pomegranate seeds
Store these in an air tight container to maintain its fragrance.
Do not let any moisture in.
Maintain cleanliness while using it.
Use fresh and dry spoon to take it out.
Substitutes for Pomegranate seeds
Pomegranate seeds are mostly used to give tangy taste to recipes. You can also use dry mango powder, imli,kokum or mango etc.
Use of Pomegranate seeds in our recipe
Bhindi Anardana
Aloo Anardana Sabzi
Paneer Chole Masala
Chole Bhature recipe

Tags
Categories
Pomegranate seeds- Anardana
Nisha Madhulika
Rating:

5.00

out of

5