Saboodana Vada - Tapioca Patties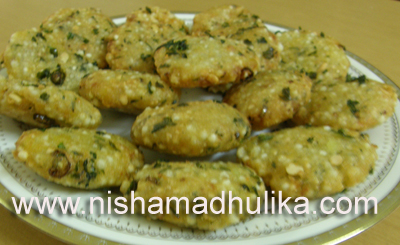 Saboodana Vada is very delicous and very popular in India during fasting. Let's make the Saboodana Vada.
Read this Recipe in Hindi- Saboodana Vada Recipe in Hindi
Ingredients for Saboodana Vada (Tapioca Patties)
Saboodana – 100 gm (1 small bowl)
Potato – 3 to 4 medium size
Peanuts – 50 gm (half small bowl)
Green chili – 3 to 4 (cut finely)
Ginger – 2 inch long piece (grated)
Coriander – half small bowl (cut)
Salt – 1 small spoon (or as per taste)
Oil – to fry
How to make Saboodana Vada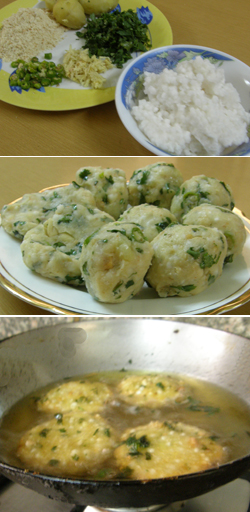 Wash the saboodana and soak them in water for 2 hours.
Take the roasted and peeled peanuts and grind them coarsely.
Boil the potatoes, let them cool, peel them and then break them finely.
If there's extra water in the saboodana then remove it. Mix properly wet saboodana, peanuts, potato, green chili, ginger, coriander and salt. The mixture for saboodana vada is ready.
Put oil in a frying pan and heat it. Take out a small lump from the mixture (almost lemon sized) and shape it like a ball then flatten it with your palms. Put it in the hot oil. Like this put 3 to 4 vadas in the frying pan. Now keep frying, while turning them, till they turn golden. Spread a napkin in a plate and take out the fried vadas on it. Like this make all the vadas.
The Saboodana Vada are now ready to serve and eat along with coriander chutney or any other chutney.
Saboodana Vada Recipe – sago vada recipe in Hindi Video in Hindi

Tags
Categories
Saboodana Vada - Tapioca Patties
Nisha Madhulika
Rating:

5.00

out of

5