Besan Ki Gujiya Recipe - Besan Gujia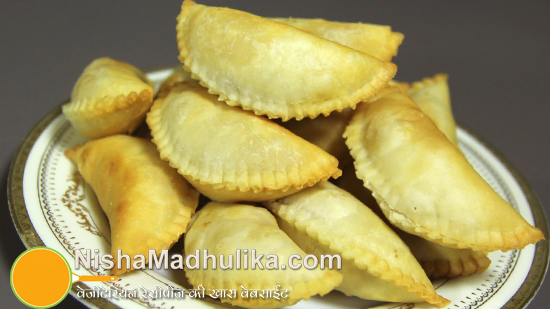 Besan and dry fruit gujiya with different taste and too tempting to eat.
हिन्दी में पढिये : Besan Ki Gujiya Recipe - Besan Gujia
Ingredients for Besan Gujia
For Dough
Refined flour – 1 cup (125 grams)
Ghee – 2 tbsp (30 grams)
Milk – ¼ cup
For Stuffing
Chickpea flour – ½ cup (50 grams)
Powdered sugar – ½ cup (75 grams)
Ghee – ¼ cup (50 grams)
Almonds – 5-6
Cashews – 5-6
Grated coconut – 2 tbsp
Chironji – 1 tbsp
Raisins – 1 tbsp
Green cardamoms – 4
Ghee – to fry gujiyas
How to make Besan Ki Gujiya
Knead dough
Take refined flour in a big mixing bowl and mix melted ghee into it. Add milk in small portions and knead stiff dough. Cover and keep the batter aside for 20 to 25 minutes to set.
Prepare stuffing
Chop almonds and cashews into small chunks. Peel the cardamom and grind. Heat a pan and add 1 tbsp ghee into it. When the ghee melts, add chickpea flour and stir constantly on low flame while roasting. Roast until it gets little dark in color and then immediately turn off the flame. Mix chopped cashwes-almonds, raisins, grated coconut and cardamom powder and mix well. Take out the mixture in a plate and let it cool down.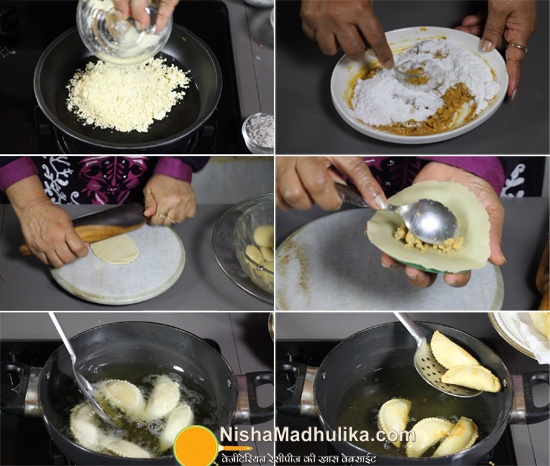 Roll out pooris
After half an hour knead the dough again until smooth. Break small lumps from the prepared dough. Press the dough lump with both hands and give it a shape like peda. When the mixture cools down, mix powdered sugar to it.
Take one dough ball at a point and roll out into 3 to 4 inch diameter pooris. Place these rolled pooris over a plate.
Stuff the gujiyas
For stuffing the poori, take one poori and place it over the mold. Place 1 to 1.5 tsp prepare stuffing over it. Apply some water on the edges and close the mold. Remove the extra dough and open the mold. Take out the gujiya and place it over a plate. Similarly prepare remaining gujiyas as well.
Fry the gujiyas
Heat enough ghee in a wok and drop as many gujiyas as possible into the wok. Fry on low-medium flame and fry until they get golden brown in color from both sides. Drain out the fried gujiyas over a plate and likewise fry remaining gujiyas as well. It takes 3 to 4 minutes to fry gujiyas at once.
Tempting and toothsome besan gujiya is ready. Serve them steaming hot, they taste delicious. Let them cool down completely and store in air tight container and relish eating for up to a month.
Suggestions
While kneading the dough make sure you add moen in right quantity. If the quantity of ghee is less then gujiyas will turn hard and if the meon gets too much then it will get difficult to make gujiyas and these can splatter while frying.
Make sure that the pooris are not thin at the center else they will splatter.
Be cautious while stuffing the gujiyas, it should not splatter. If this broken gujiya is dropped in ghee for frying then stuffing can come out and mix into the ghee. After this we will need to strain the while ghee.
If you wish to mix mawa into the chickpea then add 50 to 100 grams of roasted mawa and mix along with some sugar.
Besan Ki Gujiya Recipe - Besan Gujia

Tags
Categories
Besan Ki Gujiya Recipe - Besan Gujia
Nisha Madhulika
Rating:

5.00

out of

5