Gunda Sabzi Recipe - Lasoda Sabzi - Labede ki Sabji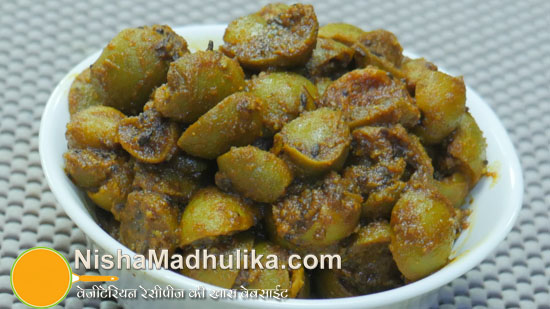 Rajasthani recipe - Lasoda sabzi is spicy and super tantalizing to eat. This sabzi can be packed for travels and is best as it keeps good without refrigerator for 2 to 3 days.
हिन्दी में पढिये : Gunda Sabzi Recipe - Lasoda Sabzi - Labede ki Sabji
Ingredients for Labede ki Sabji
Lasoda - 250 grams
Oil - 4-5 tbsp
Asafoetida - 1 pinch
Cumin seeds - 1/2 tsp
Carom seeds - 1/2 tsp
Turmeric powder - 1/2 tsp
Coriander powder - 1.5 tsp
Fennel powder - 1.5 tsp
Red chilly powder - 1 tsp
Dry mango powder - 1/2 tsp
Salt - 1 tsp (to taste)
How to make Lasoda Sabzi
Boil the lasodas
Remove the stalk from lasodas and rinse them well. Take 2 to 2.5 cups of water in any vessel and place it on flame to simmer. Cover the vessle to water starts simmering quickly. When the water starts boiling add lasodas to it and let it simmer until get tender.
After 6 to 7 minutes, check if the lasodas have turned soft. As some cracks are visible on them that means lasodas are boiled through and if you don't see ant cracks then boil them for more. Turn off the flame and drain out the lasodas using a sieve. Let them cool down. It takes 10 minutes to boil the lasodas.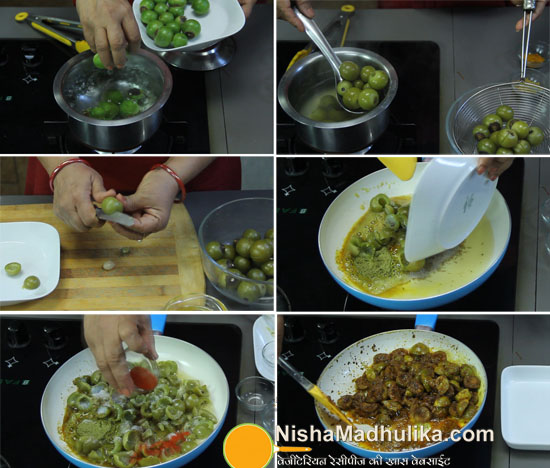 Cut the lasodas
When the lasodas cool down, start chopping them. For this, remove the cap over these lasodas using a knife and then chop down making 2 to 4 chunks. Remove the seed as well.
Prepare the sabzi
In a pan take 4 to 5 tbsp oil. When the oil is hot, add cumin seeds, carom seeds and splatter for a while. Now to it add asafoetida and reduce the flame to prevent spices from browning. Also add turmeric powder, coriander powder and fennel powder. Mix a little and add lasoda pieces, salt, red chilly powder and mango powder. Mix everything really well and let them simmer for 3 to 4 minutes.
After 4 minutes, spicy tangy lasoda sabzi is ready, transfer it to a bowl. Serve this scrumptious lasoda sabzi as a side dish and relish eating. This sabzi can be store for up to 5 to 6 days in refrigerator and for 2 to 3 days without refrigerator. Pack this sabzi for a picnic or outing along with pooris or paranthas.
Suggestions
Lasodas are little gooey and can make your hands little sticky as well. But after this sabzi is cooked they don't remain gooey or sticky.
For 7 to 8 members
Gunda Sabzi Recipe - Lasoda Sabzi - Labede ki Sabji
Tags
Categories
Gunda Sabzi Recipe - Lasoda Sabzi - Labede ki Sabji
Nisha Madhulika
Rating:

3.14

out of

5