Tendli Pickle Recipe - How to make Tindora Pickle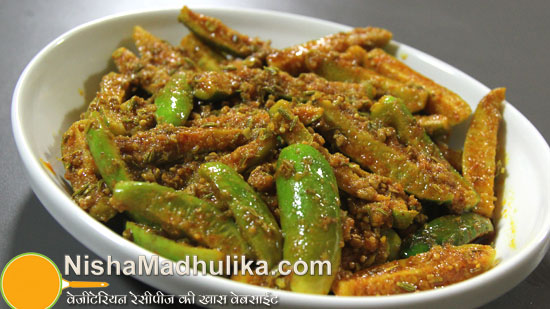 We often make pickle and sabzi with kundru but pickle made with it also taste super tasty. So let us make super tangy and spicy kundru pickle today.
हिन्दी में पढिये : Tendli Pickle Recipe - How to make Tindora Pickle
Ingredients for Tendli Pickle Recipe
Kundru – 250 grams
Salt – 1 tsp
Vinegar – 2 tbsp
Mustard oil – ¼ cup
Salt – 1.25 tsp or more than 1 tsp
Asafoetida – 2-3 pinches
Red chilly powder – 1 tsp
Turmeric powder – ½ tsp
Yellow mustard seeds – 2 tsp
Fennel seeds – 2 tsp
Fenugreek seeds – 2 tsp
How to make Tindora Pickle
Remove stalk from each kundru and cut it into four parts lengthwise. Take this kundru in a bowl and to it add some salt. Close the bowl and place it under sunlight for 3 to 4 hours to excrete its juice.
After 4 hours, mix the kundru chunks thoroughly and then strain out the juice in another bowl.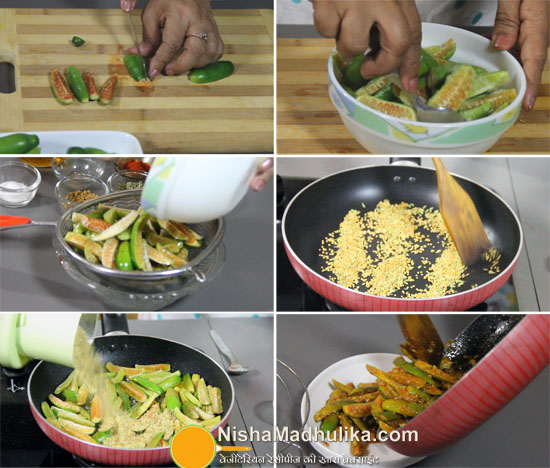 After this, prepare spices for the pickle. Heat a pan over flame and to it add fenugreek seeds, fennel seeds and re mustard seeds. Saute for 1 to 2 minutes while stirring constantly to remove the moisture from them. Keep the flame low. When the spices are roasted well, turn off the flame and take out the spices in a bowl to cool them.
Heat some oil in a pan and turn of the flame. Now mix the kundru chunks into the oil, followed by coarsely ground spices, asafoetida, red chilly powder, turmeric powder and salt. Mix everything really well. 
Take off the pan from flame and place it over a stand. Now mix vinegar in the end and stir to mix well. Kundru pickle is ready, transfer it to a plate. Tangy-spicy kundru pickle is ready. You can consume it right not or after 2 days when all the spices are absorbed inside the kundru chunks. This pickle keeps good for 10 to 12 days in refrigerator and for a week without refrigerator. 
Suggestions
You can mix the salt to kundru and keep it over night to excrete the juice. 
If mustard oil is rightly heated then the spiciness in it reduces. 
Slightly roast the spices as there should not be change in color. Just remove the moisture. 
Keep stirring the pickle 2 to 3 times in a day so that the spices are mixed up nicely. 
Thoroughly sterilized the container and sun dry it. Now use it to store the pickle. 
Use a clean and dry spoon for taking out the pickle from the container. Now moist or dirt should enter the pickle. 
Tendli Pickle Recipe - How to make Tindora Pickle

Tags
Categories
Tendli Pickle Recipe - How to make Tindora Pickle
Nisha Madhulika
Rating:

5.00

out of

5