How to make Garam Masala – Indian spice mix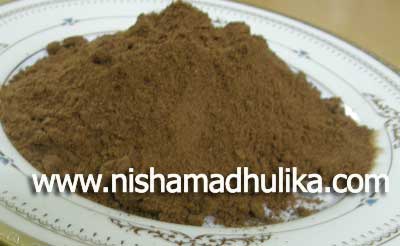 Garam masala is available in the market, but many families still prepare it at home for purity and taste. Fresh garam masala tastes and smells better than the one bought from the market. Let's make Garam Masala at home today.
इस पोस्ट को हिन्दी में पढ़ें गरम मसाला 
Ingredients for Garam Masala
Black pepper – 25 gm
Cloves – 25 gm
Big Cardamom – 25 gm
Cumin seed – 15 gm
Cinnamon – 15 gm
Malabathrum – 15 gm
How to Make Garam Masala
Clean all the spices and peel the skin from the big cardamoms.
Place a heavy bottomed frying pan on the burner. Roast all the spices (except cardamoms) in the hot frying pan, on low flame, for 2 to 3 minutes. An aroma will start coming out from the spices. Take the spices out on a plate and let them cool. Now add the cardamom granules to the spices and grind them all very finely. Your Garam Masala is ready.
You can store the garam masala in an airtight container for up to 6 months.
For making Fresh Garam Masala
Ingredients for Fresh Garam Masala
Black pepper – 7 to 8
Cloves – 4 to 5
Big Cardamom – 2
Cumin seed – ¼ small spoon
Cinnamon – 1 inch long piece
Malabathrum – 2 to 3 leaves
How to make Fresh Garam Masala
Put all the spices (except cardamoms) in a frying pan and roast them for 1 to 2 minutes, till the aroma starts coming out. Mix the roasted spices and peeled cardamoms, and grind them.
Fresh Garam Masala is now ready to use.
Garam Masala Powder Recipe How to make Garam Masala Video in Hindi

Tags
Categories
How to make Garam Masala – Indian spice mix
Nisha Madhulika
Rating:

5.00

out of

5