Palak Kofta Curry Recipe - Spinach Kofta Curry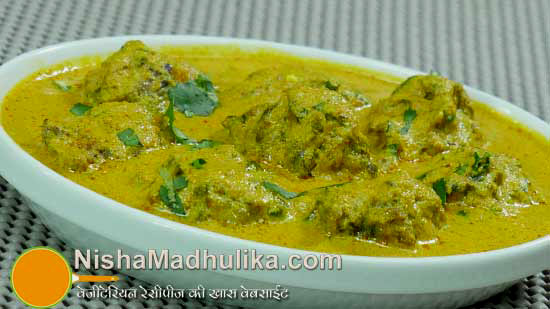 This tempting and sumptuous  palak kofta curry prepared with finely chopped spinach in gram flour and simmered in tomato-cream gravy can be served steaming hot with chapatti, parantha or rice.  
हिन्दी में पढिये : Palak Kofta Curry Recipe - Spinach Kofta Curry
Ingredients for  Palak ke Kofte
For Koftas:
Spinach – 200 grams
Gram flour – 1 cup (100 grams)
Green chilly – 1 (finely chopped)
Ginger – ½ inch piece (grated)
Salt – ¼ tsp
Red chilly powder – ¼ tsp
For Gravy:
Tomato – 4 (300 grams)
Green chilly – 2 (paste)
Ginger – 1 inch piece (paste)
Cream – ½ cup (100 grams)
Oil – 2 to 3 tbsp
Green coriander – 2 to 3 tbsp (finely chopped)
Cumin powder – ½ tsp
Asafoetida – 1 pinch
Turmeric powder – ½ tsp
Coriander powder – 1 tsp
Red chilly powder – ¼ tsp
Garam masala – ¼ tsp
Salt – 1 tsp or as per taste
How to make Palak kofta curry
How to make  Palak Kofta Curry
Let us start with preparing the kofta balls for the curry first. Clean the spinach leaves, remove the stalk and rinse the leaves with water thoroughly. Place the leaves in a sieve to drain the excess water. Finely chop the leaves.
Take gram flour in a big bowl. Add water in small parts and stir to dissolve lumps completely and prepare a thick batter. Add finely chopped, ginger, finely chopped green chilly, ¼ tsp red chilly powder and ½ tsp salt and mix everything well. Now add add chopped spinach into it. Mixture for making koftas is ready.
Take some oil in a wok and heat it sufficiently. When the oil is sufficiently hot, pinch some mixture and roll into kofta shape. Slide this kofta ball in the oil. Place as many koftas as possible and deep fry them until brown in color. Take out the fried koftas in a plate and similarly fry the rest.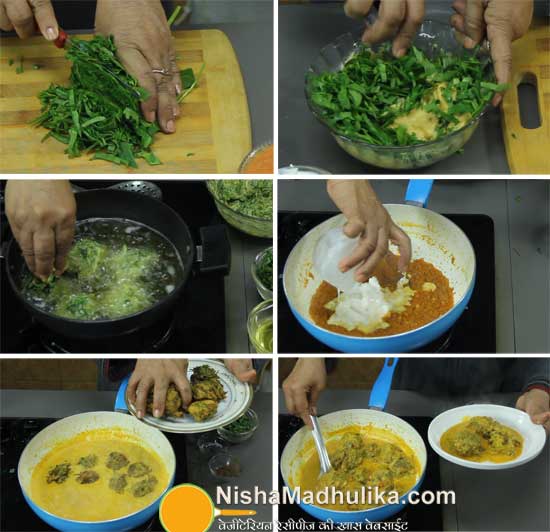 Prepare gravy: 
Heat 2 tbsp oil in a wok. Then add cumin seeds, asafetida, turmeric powder, coriander powder and sauté for a while. Now add tomato-ginger-green chilly paste, red chilly powder and sauté the masala on low flame until oil starts separating from it. Add cream and stir constantly until the masala starts simmering. 
When the gravy starts boiling add 1 to 2 cups of water and keep stirring constantly until the gravy starts to boil again. Now add garam masala, salt and some green coriander. Mix well. 
Drop the fried koftas in the gravy, mix gently, cover and cook on low flame for 2 minutes. Sabzi is now ready, turn off the flame and transfer the sabzi into a serving bowl. Garnish with some coriander sprigs. Serve steaming hot palak kofta curry with chapatti, parantha, naan or rice and relish eating. 
Suggestions: 
You can make gravy with many other ingredients as well like, cashews or mawa, creamy gravy, poppy seeds-tomato gravy and so on. 
After adding cream to the gravy, keep stirring continuously until the gravy starts simmering again else it can coagulate.
 For 3 to 4 members
Time – 40 minutes
You can also prepare the koftas in microwave instead of deep frying. Here's the link:
How to make Palak kofta curry using microwave
Palak Kofta Curry Recipe - Spinach Kofta Curry

Tags
Categories
Palak Kofta Curry Recipe - Spinach Kofta Curry
Nisha Madhulika
Rating:

5.00

out of

5