Groundnut Chikki - Groundnut Chikki Recipes, Sing Chikki Recipe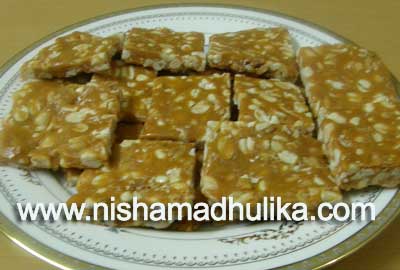 Chikki is a sweet, prepared by mixing various types of nuts and other ingredients either with jaggery or sugar. These ingredients are mixed with thick syrup made of jaggery or sugar. Ground nut chikki is great for health and very popular in India.
It's normally eaten in winter season. Both protein and iron are found in this chikki, in adequate quantity. If you like peanuts you will definitely like the peanuts chikki. Today, let`s we prepare the peanut Chikki.
हिन्दी में पढिये : Groundnut Chikki - Groundnut Chikki Recipes
Ingredients of Moongfali ki Chikki
Peanuts - 250 gm.
Jaggery or Sugar – 250 gm.
Ghee – 1 1/2 Small Spoon
How to make Groundnut Chikki
If you have bought roasted peanuts from the market then peel of their skin. If you want to roast peanuts at home, then mix one small spoon of water in them, after 2 to 3 minutes roast them in a microwave for 4 to 5 minutes. If they are not properly roasted, then roast them for another 2 minutes. Peel off the skin after they have cooled.
Put small spoon of ghee in the frying pan and heat it. Then break the jaggery and put it in the frying pan and keep stirring with a frying spoon (on medium flame). The jaggery starts melting. Do not stop stirring. After 6-7 minutes take out one drop of syrup on a plate, if it starts freezing, then the syrup is ready. If it doesn't freeze then cook for another 2-3 minutes and test. The syrup is ready now.
Mix the peanuts in the syrup and cook for 2 to 3 minutes, while stirring vigorously. Put the ghee on a plate to make it oily. Now take out the ready syrup or chikki from the frying pan and quickly spread it on the oily plate. Cut it into your preferred size with a knife. After they have cooled separate the pieces.
The amazingly delicious Peanuts Chikki is ready now. Store it in an air tight container, so that you can have the chikki, whenever you feel like it.
इस पोस्ट को हिन्दी में पढ़ें
मूंगफली की चिक्की

Tags
Categories
Groundnut Chikki - Groundnut Chikki Recipes, Sing Chikki Recipe
Nisha Madhulika
Rating:

5.00

out of

5