Stuffed Tendli Recipe - Stuffed Tindora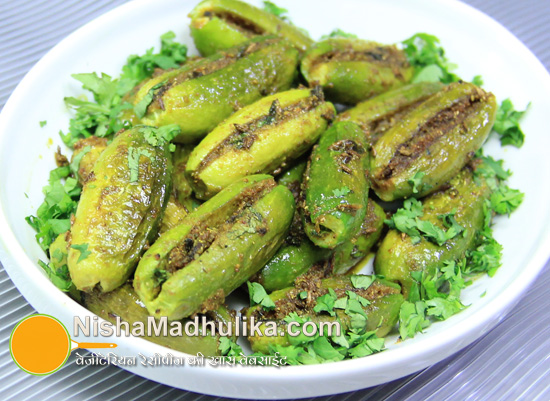 Whenever you feel bored with having same sabzis everyday, then try making studded sabzi. You'll surely liked eating bit crispy stuffed kundru prepared with desi spices-mango powder on low flame. 
हिन्दी में पढिये : Stuffed Tendli Recipe - Stuffed Tindora
Ingredients for Stufed Kundru
Kundru – 250 grams
Mustard oil – 2 tbsp
Fennel powder – 2 tsp
Coriander powder – 2 tsp
Cumin seeds – ½ tsp
Asafoetida – 1 pinch
Green coriander – 2 to 3 tbsp
Mango powder – ½ tsp
Red chilly powder – ½ tsp
Garam masala – ¼ tsp
Turmeric powder – ¼ tsp
Salt – ¾ tsp or as per taste
How to make Stuffed Tendli
Wash kundrus thoroughly and dry them nicely. Remove the stalk from both the ends and make a cut in the center, keeping it joined at the other end. 
Prepare the masala for stuffing
Take coriander powder, fennel powder, mango powder, red chilly powder, garam masala, turmeric powder, salt and some green coriander in a bowl. Masala for stuffing the kundrus is ready.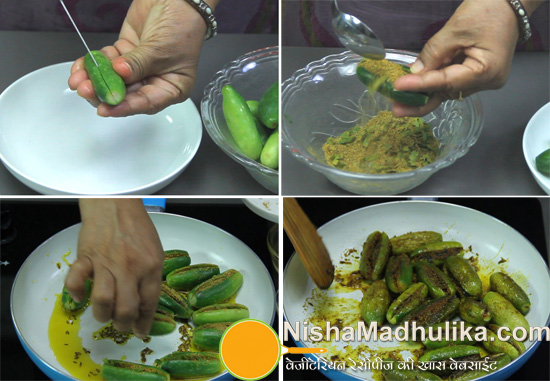 Stuff the kundrus with masala:
Take one kundru at a time, open it very gently and stuff it the masala with help of a spoon. Press it gently. Likewise, stuff all the kundrus.
Cook the kundrus:
Take some oil in a wok. When oil is hot, add cumin seeds. After sautéing cumin seeds add asafoetida. Now place the stuffed kundrus in the pan one by one, cover and cook them on low flame for 3 to 4 minutes. Open the lid and flip the kundrus. Cover again and cook for 4 more minutes. Flip the sides again, cover and cook from all sides until they turn soft and slightly brown in color.
Kundrus are now ready, take them out in a bowl. Garnish with some green coriander and serve this tempting sabzi with chapatti, parantha or poori and relish eating.
Suggestion:
Use a wok with flat base to prepare the kundrus sabzi. Cook kundrus on low flame and you'll get scrumptious stuffed kundrus.
For 3 to 4 members
Time – 35 minutes
Stuffed Tendli Recipe - Stuffed Tindora

Tags
Categories
Stuffed Tendli Recipe - Stuffed Tindora
Nisha Madhulika
Rating:

5.00

out of

5