Maida Namkeen Cubes Recipe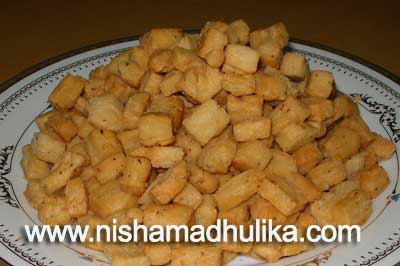 We have made Namakpare in our last post. Today we will make Maida Nanmkeen Cubes at home. The method to make Maida Cubes are similar to that of Namakpare. The taste of Namakpare and Maida Cubes is almost same. But as cubes are thick one can find slight change in the taste as compared to namakpare. So lets make Maida Namkeen Cubes today.
Ingredients for Namkeen cubes
Maida - 500 gms. (4 small bowl)
Ghee - 125 gms. (1 bowl)
Cumin seeds - 1 tea spoon.
Carom seeds - 1 tea spoon.
Kasoori Methi - 11/2  table spoon.
Salt - 3/4 tea spoon (according to the taste)
Baking powder - 1/2 tea spoon.
Refined oil - to fry.
Method - How to make Namkeen Cubes
Sieve the flour in a bowl and add salt, cumin seeds, kasoori methi, baking powder and ghee into it. Mix all the ingredients well and knead the flour with luke warm water. Cover the dough and leave the dough for 1 hour.
Make 4 big sized balls of the dough and roll them into 6-7 inches flat disc each. Cut the disc into square pieces with the help of a knife and keep them in a plate.
heat oil in a pan and put the cubes into the pan. Put as many cubes as you can in the pan at one time. Fry the cubes on medium flame until they turn brown in colour. Take out the fried cubes on a plate and fry rest of them in the same manner.
Maida Namkeen Cubes are ready. Serve them with tea or coffee and store the remaining in an air-tight container.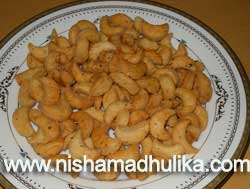 You can cut the cubes into the shape of a cashew and fry them. The method to do so is following: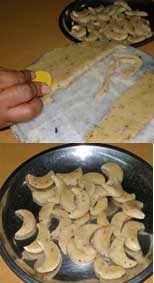 Roll out the dough balls into thick flat disc of 6-7 inches. Take a bottle cap and cut the disc into the shape of half moon with the help of a bottle cap. Cut as many pieces as you can with the dough disc.
Now fry them into the oil on a medium flame till they turn brown in color.
Maida Namkeen Cubes Recipe video

Tags
Categories
Maida Namkeen Cubes Recipe
Nisha Madhulika
Rating:

5.00

out of

5