Pani Puri/Golgappa Recipe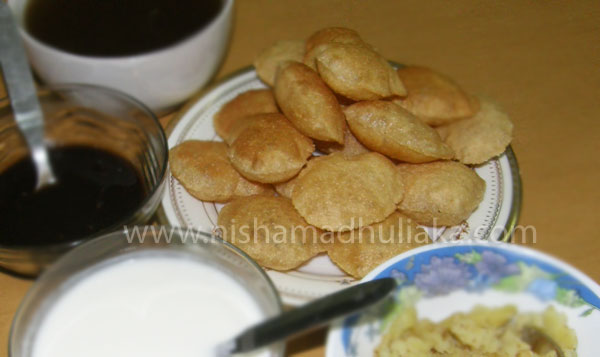 Do you call them Golgappa or Pani Puri? Either name is mouth watering. You can also call it Golgappa. Whenever you visit Chandni Chowk or Sitaram Bazaar don't miss the chance to have Golgappas.
These days Gol Gappas are available in restaurants and malls, but standing next to its Thela(cart) and eating than in the mall is more exciting as you can see the market's hustle-bustle. Pani Puri can be made completely out of wheat flour or wheat flour and Suji(semolina) mixed in equal proportions or just Suji. We will be preparing Gol Gappas with wheat flour and Suji mixed together.
This is the era of packaged food culture, so you also get Golgappas in packets. Prepare the its water at home and eat with potatoes, Chana and Chutney. But if you want then you can prepare fresh Golgappas at home. So lets make Golgappas at home.
- Ingredients for Golgappa - Pani Puri
Wheat flour/Maida -1/2 cup
Suji(semolina) -1 cup
Oil
- How to make Pani Puri /Golgappa
Take wheat flour, Suji, oil and baking powder in any utensil and mix these contents properly. With the help of water knead a dough for hard Puri(press dough well while kneading).



Cover the dough and leave it aside for 20 minutes to ferment. Pani Puri can be made in 2 methods, you can follow any method that you like.
1st Method
Break off small pieces off the dough. Cover these pieces with a cloth. Roll all of the pieces, one at a time into a circle(at least 2 inches in diameter). Cover these rolled Puris with a cloth as well and keep them aside.
2nd Method
Break a big round(guava sized) piece off the dough, roll this round piece into a circle(2 millimeters thick and 10-12 inches in diameter). With the help of a cover cut as many round Gol Gappas possible, take the small circles and keep them on a plate. Mix the dough that is leftover to the main dough and repeat the same process till you have made Gol Gappas of the entire dough. Now take one Gol gappa at a time and roll it a little making it more thin. You can roll them length wise to make long Gol Gappas or circular to make round Gol Gappas. All Gol Gappas are ready so let us fry them.



1. Knead a hard dough for Gol Gappas. 2. Press with a frying ladle while frying to make them puffy.  3. As Gol Gappas become pufy lower the flame of the gas.  4. Until they cool off leave the Golgappas without covering else they turn soft.
Pour oil in a pan(kadhai) and heat. Take 4-5 Puris and put them in oil, keep them submerged by pressing them with a ladle for some time.  This makes them puffy. After Golappa is puffed turn sides and fry on a low flame. When they turn brown take them out and put them on a plate. Now fry another 4-5 Puris. Similarly fry all the Pani Puris and take them out on a plate. Your Pani Puri is ready.
We also require a different type of water to have along with the Pani Puri. The easiest way to prepare water for Pani Puri: Take Jal Jeera masala and mix it in water. Add lemon and salt to this water for a good taste. Water for Pani Puri is ready. Now peel boiled potatoes and mix roasted Jeera and salt to it.
Prepare sweet Chutney and try the Golgappas to see how good they have become.
If you want to make water for Pani Puri:
- Ingredients for Pani Puri Pani
Green coriander(Dhaniya) - 1/2 cup
Mint - 1/2 cup
Tamarind/Amchur powder - 2 tsp(or juice of 2 lemons)
Green chilly - 2
Ginger - 1 inch long piece
Roasted Jeera - 2 tsp
black pepper powder - 1/4 tsp( if you prefer spicy)
Salt - add to taste (1 tsp)
black salt - 1 tsp
- How to make Golgappa Pani
Break off the stems off the coriander and mint leaves, wash them with clean water.
Grind all the spices along with coriander and mint in a mixer to make a fine paste. Dissolve the spices paste in 2 litres of water. You have prepared Jal Jeera water by yourself.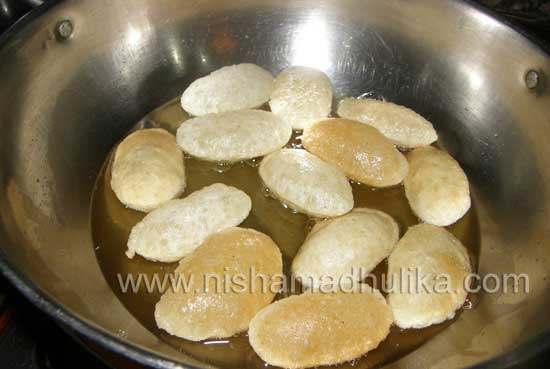 Pani Puri/Golgappa Recipe video

Tags
Categories
Pani Puri/Golgappa Recipe
Nisha Madhulika
Rating:

5.00

out of

5