Yam Pickle - Yam Pickle Recipes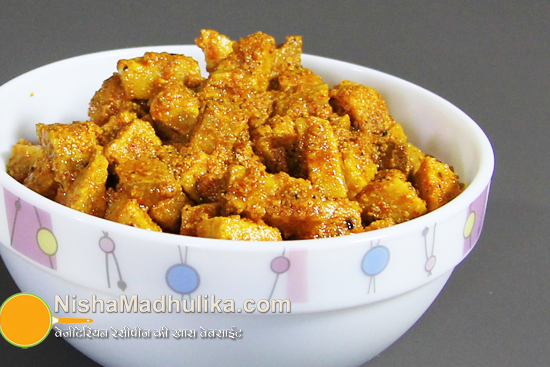 Jimmikand or suran may have less shelf life but is best when it comes to taste and benefits. You can even make it instantly.
हिन्दी में पढिये : Yam Pickle - Yam Pickle Recipes
Ingredients for Suran Ka Achar
Jimmikand – 250 grams
Salt – 1.5 tsp
Fenugreek seeds – 2 tbsp (coarsely grind)
Yellow mustard seeds – 2 tbsp (coarsely grind)
Asafoetida – 2 to 3 pinch
Turmeric powder -1 tsp
Carom seeds – ½ tsp
Red chilly powder – 1 tsp
Vinegar – 3 tbsp
Mustard oil – ¼ cup (4 to 5 tbsp)
Black pepper – ½ tsp
How to make Yam Pickle
Peel jimmikand and chop into ½ - ½ inch chunks. Wash thoroughly and place them in pressure cooker. Add 1 cup water and cook. When it simmers once, reduce the flame and boil for 2 to 3 more minutes. Turn off the flame and take out jimmikand from pressure cooker.
Place the jimmikand on a sieve, when the extra water drain out, spread the chunks over muslin cloth and place under sunlight for 2 hours or fan to dry.
When jimmikand dries, place it in a bowl. Now add salt, fenugreek seeds or powder, yellow mustard seeds or powder, asafoetida, carom seeds, red chilly powder, vinegar and mustard oil into it and mix everything really well. Also add black pepper powder. Pickle is ready.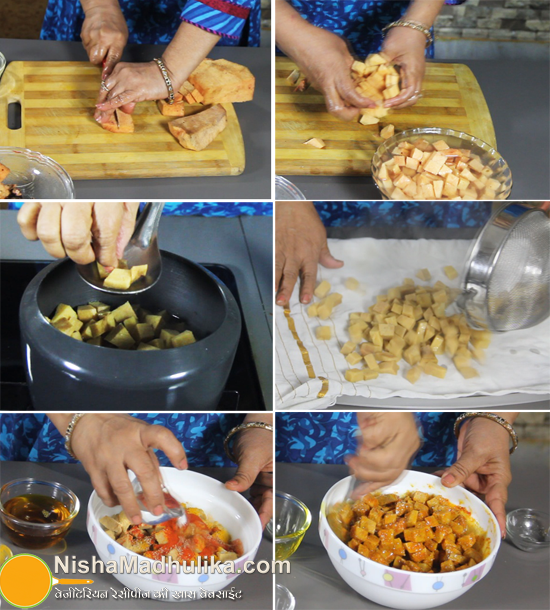 This pickle can be consumed right now, but the real taste will come after 3 days when all spices are absorbed by jimmikand. Stir the pickle once daily with help of a spoon and mix well. With this spices will blend more nicely.
Place the pickle container under sunlight for 3 to 4 days or inside the room if there is no sunlight.
Jimmikand pickle can be stored for up to 1 month. If stored in refrigerator then this pickle can be stored for up to 6 months.
Suggestions:
The vessel being used while making pickle, make sure is dry and clean. Don't let any kind of moisture or dirt enter the pickle.
Wash the container to be used for storing pickle with boiling water and dry under sunlight or in oven.
Always use a clean and dry spoon whenever you are taking out the pickle from container. With this the pickle has longer shelf life.
Jimikand Pickles Recipe - Yam Pickle recipe


Tags
Categories
Yam Pickle - Yam Pickle Recipes
Nisha Madhulika
Rating:

5.00

out of

5