Raw Mango Pickle Without Oil Recipes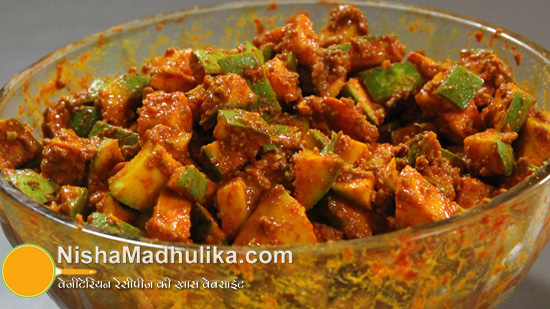 After winters, raw mangoes are available in market in abundance and this is the correct time to make mango pickle. Mango pickle, prepared instantly and with very less oil is scrumptious to eat and has a longer shelf life.
हिन्दी में पढिये : Raw Mango Pickle Without Oil Recipes
Ingredients for Raw Mango Pickle Without Oil
Raw mango - 1 kg ( 5 to 6)
Salt - less than 1/2 cup (100 grams)
Fennel seeds - 2 tbsp
Fenugreek seeds - 1 tbsp
Vinegar - 1/2 cup
Turmeric powder - 2 tbsp
Red chilly powder -2 tbsp
Asafoetida - 1/2 tsp
विधि - How to make mango pickle without oil
Wash the mangoes thoroughly. When mangoes dry, remove the stalk of mangoes and cut the pulp in small chunks without peeling.
Preheat a pan. Now add fenugreek seeds and fennel seeds into it and saute for while so that there is no moisture in the spices. When spices are roasted, turn off the flame and take them out in a plate. Allow the spices to cool.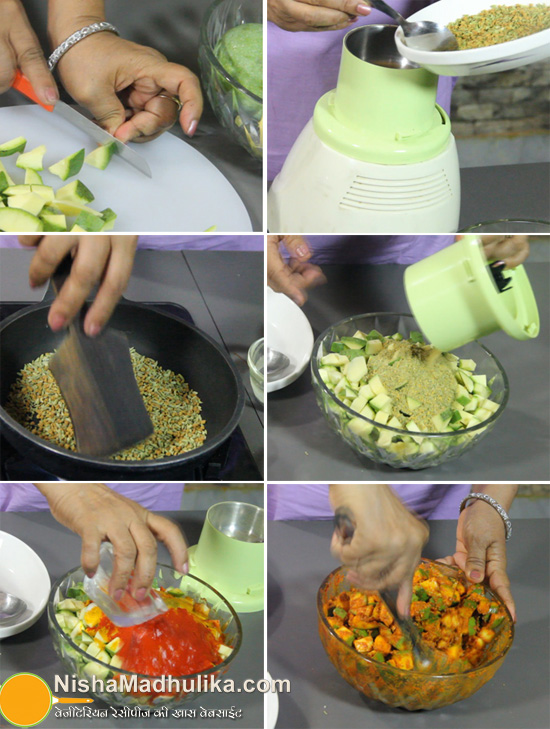 When spices get cooled, grind them coarsely. Now mix coarsely ground spices, salt, asafoetida, turmeric powder, red chilly powder and vinegar in the mango chunks and mix everything really well. Mango pickle is ready.
After 1 week, this mango pickle will be ready to be consumed. Stir the pickle regularly with help of a spoon, really well. With this all the spices mixes well with each other.
Suggestion:
While making pickle, make sure the container to be used for making pickle should be washed with boiling water, dry it under sunlight or in microwave or oven. Make sure there no moisture in it.
Use a clean and dry spoon for taking out the pickle.
There should not be any kind of moisture or dirt in the pickle, only then it will have a longer shelf life.
Raw Mango Pickle Without Oil Recipes Video in Hindi

Tags
Categories
Raw Mango Pickle Without Oil Recipes
Nisha Madhulika
Rating:

5.00

out of

5