Methi ki Launji recipe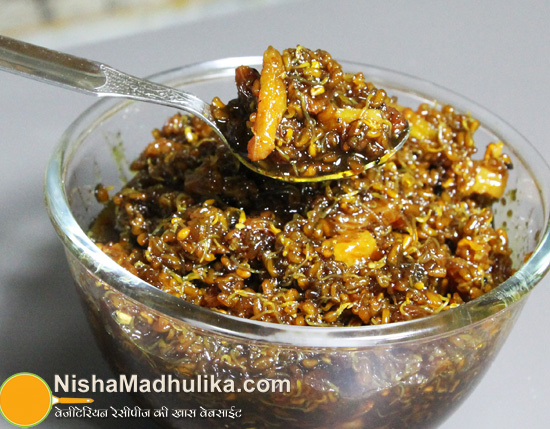 Methi launji is a traditional Rajasthani recipe is also known as sweet fenugreek pickle. Methi launji is delicious as well as beneficial for digestion. It can be served with poori or parantha. 
हिन्दी में पढिये : Methi ki Launji recipe
Ingredients for Fenugreek Seed Pickle
Fenugreek seeds - 1/4 cup
Sugar - 1 cup
Mustard oil - 2 tbsp
Vinegar - 2 tbsp
Raisins - 2 tbsp
Dates - 5-6
Brown cardamom - 2
Clove - 6-7
Black pepper - 3/4 tsp
Asafoetida - less than 1/4 tsp
Red chilly powder - 1/2 tsp
Fennel - 1 tsp (coarsely grounded)
Ginger powder(Sonth) - 1 tsp
Cumin powder - 1 tsp
Black pepper - 1 tsp
Salt - 3/4 tsp or as per taste
How to make Fenugreek Seed Pickle
Clean and wash the fenugreek seeds thoroughly and soak in water for 4-5 hours. Take them out from water and place it over a sieve. Now cover with a wet muslin cloth. Within two days these will sprout. Preheat oil in a pan. When oil is sufficiently hot, add asafoetida and cumin powder into it. After sauteing for while, add sprouted fenugreek seeds and mix well.  
Now add fennel powder, ginger powder, red chilly powder, plain salt, black salt and 1/2 cup water. Mix everything really well. Cover and cook on low flame for 3-4 minutes.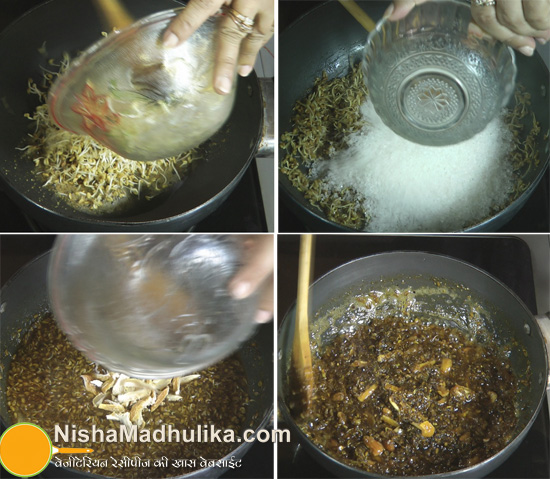 Coarsely ground brown cardamom, clove, black pepper and chop dates. Check the fenugreek. Now add sugar and 1/4 cup of water into it and mix well. Cook until sugar melts completely and add raisins,  dry dates and coarsely grounded spices. Now cook until launji gets thick and dense in consistency. Keep stirring the launji at regular intervals. Keep the flame medium.
Methi launji is ready, turn off the flame now and allow it get cool. When launji gets cooled, add vinegar into it and mix well. Now take it out in a bowl. When launji cools completely, store it a container and relish eating for 6 months. 
Suggestion:
For storing launji, wash container with boiling water and dry under sunlight. Container can be dried in oven as well. Always use dry and clean spoon for taking out launji from the container.
If launji sets, then you can add 2-3 tbsp warm water into it. With this it will get thin in consistency.
Fenugreek Seed Pickle Recipe Video in Hindi

Tags
Categories
Methi ki Launji recipe
Nisha Madhulika
Rating:

5.00

out of

5