Musk Melon Seeds Chikki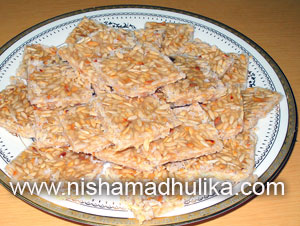 Miggi Pag is specially made in Uttar Pradesh for fasts on the occasion of Janmashthami. But you can prepare this sweetmeat anytime, Miggi Pag is very tasty.
The special part about preparing this sweet is that it requires minimum amount of Ghee. It can be stored and eaten for many days(1 month), it is also easy to prepare. So lets start preparing Miggi Pag.
Ingredients for Musk Melon Seeds Chikki
Miggi ( melon seeds) - 200 grams/1 cup
Ghee - 1 tbsp
Sugar - 300 grams or 1 1/2 cup
Water - 100 grams
Milk - 1 tbsp
How to make Musk Melon Seeds Chikki
Put Miggi on  plate and check if there is any dirt or peel in them. Pour Ghee in a pan(kadhai) and heat, put Miggi in Ghee and fry on a low flame. If seeds pops out of the pan while frying then cover the pan holding the lid in one hand. Stir the seeds using  a spoon with the other hand, once seeds turn pink take them out on a plate.

To make Chashni, put sugar and water in a pan and heat. After it comes to boil put 1 tbsp milk and boil then remove the dirty froth which appears on the sugar. Allow the Chashni to boil for 3-4 minutes. Now check the texture of the Chashni. Put one drop of Chashni in a bowl and after it cools off place it on your finger. Now try to stick the drop between your thumb and index finger. While separating the fingers a thread looking substance should come out of Chashni. If you feel that there are no threads coming from the Chashni then cook for another 2-3 minutes. Now put roasted seeds in the Chashni and mix them well with a ladle.
Apply Ghee on a plate and spread the seeds mixed with Chashni on it. Solidify 1/2 inch thick layer of Pag. Pag will turn solid in 15-20 minutes. Cut Pag into squares or polygon shaped pieces and eat.
Store the remaining Miggi Pag in an air tight container, whenever you feel like having something sweet take them out from the container and eat.
Cooking time - 30 minutes
Musk Melon Seeds Chikki video

Tags
Categories
Musk Melon Seeds Chikki
Nisha Madhulika
Rating:

5.00

out of

5