Yeast-free pizza recipe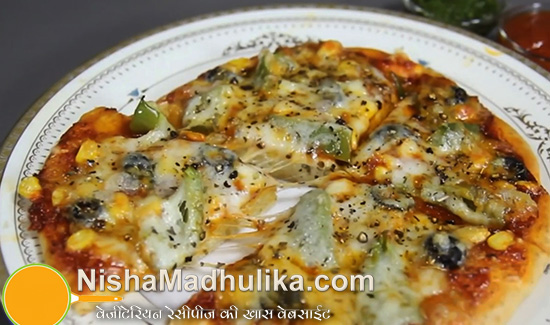 Usually pizza is prepared with yeast for rising the base. But most of us don't use yeast or at times yeast is not available. In this case pizza can be prepared without yeast. Pizza without yeast taste almost same as pizza prepared with yeast.
Read - Yeast-free pizza Recipe in English
Ingredients for Yeast-free pizza recipe
For dough
Refined flour - 1 cup (125 grams)
Olive oil - 2 tbsp
Curd - 2 tbsp
Baking soda - 1/4 tsp
Sugar - 1/2 tsp
Salt - 1/4 tsp
For Pizza topping
Mozzarella cheese - 2*2 inch piece
Capsicum - 8-10 pieces (1 inch long)
Preserved olive - 1 tbsp
Pizza sauce - 2 tbsp
Oregano - 1/4 tsp
Black pepper powder - 1/4 tsp
Sweet corn - 1-2 tbsp
How to Make Pizza Dough Without Yeast
Take out refined flour in any bowl. Add curd, sugar, baking soda, salt and 2 tsp olive oil into it. Mix all ingredients really well and with help of lukewarm water knead soft dough. Knead the dough for 5-7 minutes until smooth and even.
Dough for making pizza is ready. Grease the baking tray with some oil. Place the dough ball over tray and flatten with your hands into 1/3 inch circular shape. Evenly spread some oil over the pizza.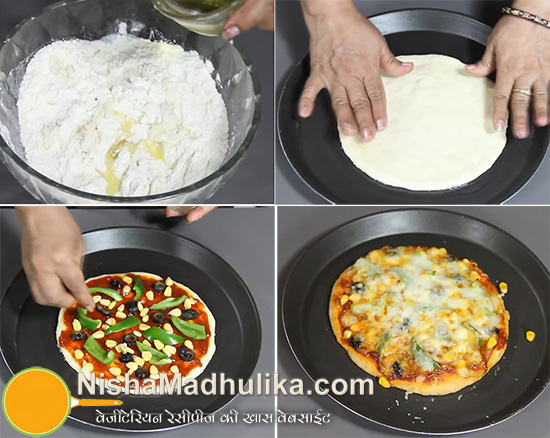 Spread a thin layer of sauce over the pizza first. Now place capsicum, olives (chopped) at distance and spread some sweet corn as well. Spread grated mozzarella cheese over the vegetables. Preheat oven at 200 degree centigrade, place the baking tray in oven and set it for 12 minutes on 200 degree centigrade. Allow the pizza to bake aptly. After 12 minutes check the pizza. If the pizza is still not brown from corners and cheese is not melted, then bake pizza for 2-3 minutes until pizza gets slightly brown from corners. Within this much time pizza gets ready.
Sprinkle some oregano and black pepper powder over the pizza, cut in pieces as per your preference. Serve steaming hot pizza with chutney or sauce and relish eating.
Suggestion:
You can also use tomatoes, paneer, onions, mushroom or baby corn for pizza toppings as per your taste. You can use any cooking oil in place of olive oil.
Yeast-free pizza recipe Video in Hindi

Tags
Categories
Yeast-free pizza recipe
Nisha Madhulika
Rating:

5.00

out of

5