Spinach Kadhi in Microwave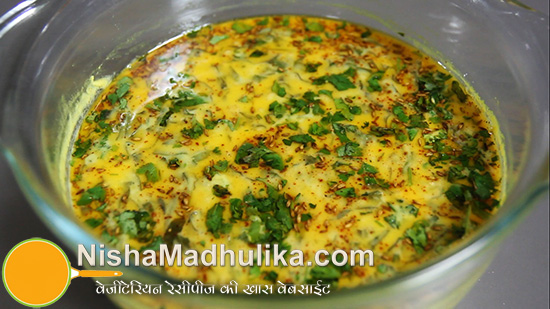 While making Kadhi on flame we are required to constantly stir the gram flour-curd batter until it starts simmering. But this is not required if making kadhi in microwave. Spinach kadhi can be easily prepared in microwave.
हिन्दी में पढिये : Spinach Kadhi in Microwave
Ingredients for Microwave Spinach Kadhi
Spinach - 250 grams
Curd - 1 cup
Gram flour- 1/2 cup
Oil - 2 tbsp
Green coriander - 2 tbsp
Green chilly - 2-3 finely chopped
Asafoetida - 1 pinch
Cumin seeds - 1/2 tsp
Turmeric powder - 1/4 tsp
Red chilly powder - 1/4 tsp
Salt - 1.25 tsp (as per taste)
How to make Palak Ki Kadhi in Microwave
Remove stalk from spinach and use leaves. Also, remove weeds and clean. Thoroughly wash the leaves twice with water, place in sieve or plate diagonally so that excess water drains out.
After this, finely chop the spinach leaves.

Whisk the curd:
Take a microwave safe bowl and place finely chopped spinach leaves into it. Now add 1/4 cup water into it and place the bowl in microwave. Cook the spinach on maximum temperature for 2 minutes. Meanwhile prepare batter from gram flour.
Add little water and make a smooth batter. Pour the gram flour batter in microwave safe bowl and add 4 cup water. Also add whisked curd, turmeric powder and red chilly powder into it.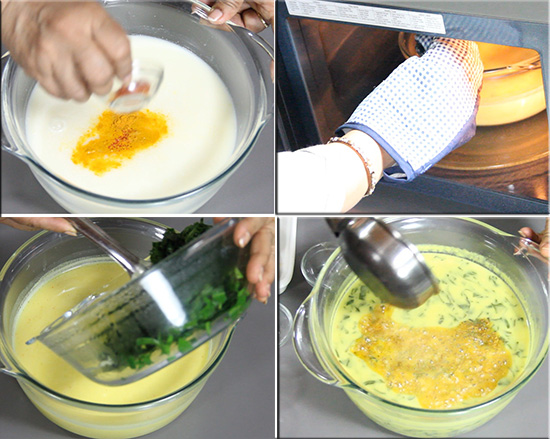 After 2 minutes, take out bowl with spinach from microwave and place the bowl with gram flour batter into it. Cook the batter for 3 minutes on maximum temperature. Stir the kadhi nicely and cook for another 3 minutes. After six minutes take out the bowl and add salt, green chilly and boiled spinach. Now cook for 2+2 .i.e 4 more minutes.
Spinach kadhi is now ready, make tadka for it now. Prepare tadka on flame. For this take small pan and add oil into it. When oil is sufficiently hot, add cumin seeds and asafoetida. Turn off the flame and add red chilly powder in pan. Pour the tadka over kadhi and mix. Also add green coriander.
Suggestion:
If you prefer eating bit tarty kadhi then place the curd outside in a room and use in morning for making kadhi. With this curd will turn sour and kadhi will also get tarty in flavor.
How to make Palak Ki Kadhi in Microwave - Video

Tags
Categories
Spinach Kadhi in Microwave
Nisha Madhulika
Rating:

5.00

out of

5