Gobhi Aloo Sabzi Recipe – Cauliflower and Potato Recipe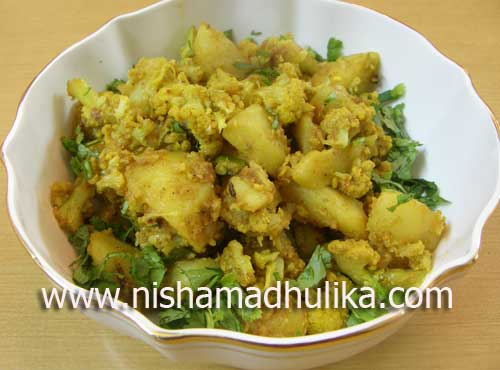 The cauliflower recipe is delicious. You can eat it with butter, nann, bread and puri. Let's prepare this recipe.
हिन्दी में पढिये : Gobhi Aloo Sabzi Recipe – Cauliflower and Potato Recipe
Ingredients for (Gobhi Aloo Sabzi Recipe) Cauliflower and Potato Recipe
Cauliflower- 350 gm(one cauliflower)
Potato- 250 gm (2 to 3 medium size potatoes)
Oil-1 or 1/2 table spoon
Asafetida- 1-2 pinch
Cumin seed- 1/2 small spoon
Green Chilly- 2 to 3 (cut into thin pieces)
Ginger-1 inch in length (grated or 1small spoon paste)
Turmeric Powder- 1/4 table spoon
Coriander Powder- 1 small spoon
Red Chilli Powder- 1/4 small spoon
Salt- (According to taste) or 1/2 small spoon
Mango powder- 1/4 small spoon
Garam masala- 1/4 small spoon
Green coriander-1 table spoon (sliced)
How to make Cauliflower and Potato Recipe
Remove the stems of cauliflower and cut it into small pieces. And wash it twice properly. Peel the potato and wash it. Cut the potato into 8 pieces. (If you cut the potato into big pieces, it retains taste)
Put the oil in the pan and heat the pan. Put the asafetida and cumin seed in the hot oil. After the cumuin seed starts frying, put turmeric powder, green chilli and ginger in the pan and stir it for 2 to3 minutes, and put the cut cauliflower, potato, salt and red chilli powder into the pan.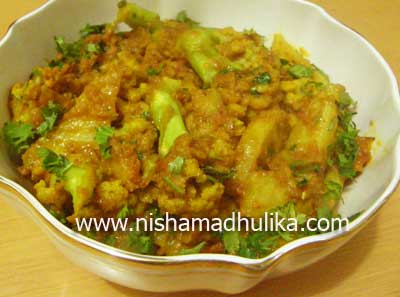 Stir both cauliflower and potato and fry them for 2 to 3 minutes. Now put one table spoon of water in the pan. Cover the pan and cook it for 8 to 10 minutes with low heat. (The recipe prepared with low heat is delicious). Open the cover and stir the spoon and press the potato to check whether the potato is properly boiled or not. If you find less water in the recipe, put one table spoon water into it and cover the pan. Cook the recipe again for 3 to 4 minutes. Open the cover from the pan. Your recipe is ready. Add the mango powder, garam masala and coriander powder and mix them properly. Your cauliflower and potato recipe is ready now.
Take out the recipe in a bowl and garnish it with the coriander powder. You can serve and eat hot this recipe with bread, chapati, nann.
Read this Recipe in Hindi
Gobhi Aloo Sabzi Recipe in Hindi

Tags
Categories
Gobhi Aloo Sabzi Recipe – Cauliflower and Potato Recipe
Nisha Madhulika
Rating:

5.00

out of

5