Stuffed Ladyfinger Recipe - Stuffed Bhindi Recipe - Bharawan Bhindi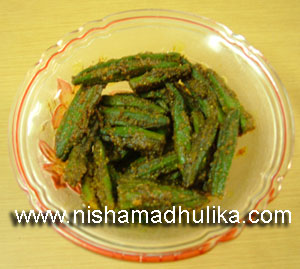 Almost everyone is fond of eating stuffed (bharwan) recipes of dry vegetables. You can store and consume stuffed recipes for 2-3 days as they don't get stale in few hours. My family members like Stuffed Ladyfinger (Bhindi) a lot. We can make Stuffed Ladyfinger in many ways. The stuff to fill the vegetable can be made with simple masala, add gram flour into the masala, mix potatoes or paneer in to the masala or fry the onions and garlic and mix them with the masala. But today we will make Stuffed Ladyfinger by mixing gram flour with the masala.
इस रेसीपी को हिन्दी में पढिये -  Stuffed Bhindi recipe in Hindi
Ingredients to make Stuffed Bhindi
Ladyfinger - 300 gms. (medium sized, smooth ladyfingers)
Gram flour - 1 table spoon.
Oil - 3 table spoon.
Anise powder - 2 tea spoon.
Coriander powder - 2 tea spoon.
Red Chilli powder - 1/2 tea spoon.
Turmeric powder - 1/2 tea spoon.
Amchoor powder - 1/2 tea spoon.
Garam Masala - less than 1/4 tea spoon.
Ginger - 1 inch long piece (grated)
Heeng - 1 pinch.
Cumin seeds - 1/4 tea spoon.
Salt - 3/4 tea spoon (according to the taste)
Method - How to make Stuffed Bhindi
Wash the ladyfinger and strain the water. Cut the stem of the ladyfinger and part it in a way that it joins from the one corner.
Take out all the spices in a plate leaving heeng and gram flour. Mix all the spices well. Heat 1 table spoon oil in a small pan and tamper the heeng and cumin seeds. Add gram flour and roast it well into the pan. Put all the spices kept in a plate in this masala and mix them well. Fry the masala for 1 minute and turn off the flame. Masala to stuff the lady finger is ready.
Stuff this masala into the ladyfingers. Make sure that the masala is stuffed equally in all the lady fingers.
Heat 2 table spoon oil in the pan and put the stuffed lady fingers into the it. Stir the recipe with light hands 2-3 times and cook it covered for 5 minutes on a medium flame. Open the lid and flip the sides of the ladyfingers. Cook it for an another 2-3 minutes with covered lid on a low flame. Open the lid, flip the recipe and cook it for 2-3 minutes on high flame
Your Stuffed Ladyfinger is ready. Serve it with hot paranthas, chapatis and naan.
This preparation is for 4 people.
Time Taken - 25 minutes.

Tags
Categories
Stuffed Ladyfinger Recipe - Stuffed Bhindi Recipe - Bharawan Bhindi
Nisha Madhulika
Rating:

5.00

out of

5