Stuffed Bajra Paratha Recipe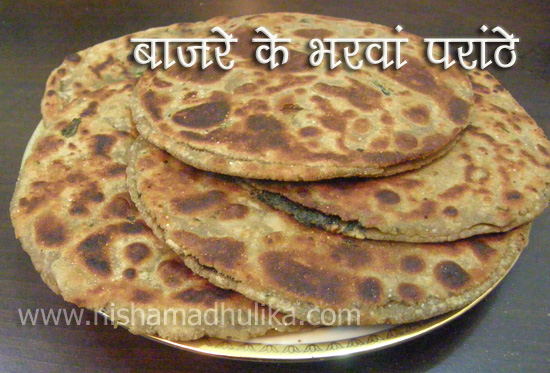 Bajra parantha is also very good in taste. You can pack Stuffed Bajra Parantha if you or any of your family member is going on a journey. We went to support the protest against Corruption in India on 30th January, then we took these Parantha along with us for the lunch.
You have to prepare a filling of vegetables to stuff Bajra Parantha first. The filling can be made from spinach, fenugreek, potatoes and any other vegetable of your choice. Let's prepare Stuffed Bajra Parantha today at home.
इस रेसीपी को हिन्दी में पढिये - Stuffed Bajra Paratha Recipe in Hindi
Ingredients for Stuffed Bajra Paratha
Bajra Flour - 300 gms. (2 cup)
Wheat flour - 100 gms. (3/4 cup)
Salt - 3/4 tea spoon (acording to the taste)
Cumin seeds - 3/4 tea spoon (optional)
Ghee or refined - to roast the parantha.
Ingredients to make the filling
Fenugreek Leaves - 3-4 (chopped)
Oil - 2 tea spoon.
Cumin seeds - 1/2 tea spoon.
Heeng - 1-2 pinch.
Salt - 1/2 tea spoon (according to the taste)
Red chilli powder - 2 pinch.
Green chilli - 1-2 pinch (chopped)
Ginger- 1 inch long piece (grated)
Method - How to make Stuffed Bajra Paratha
How to prepare the filling
Heat oil in a pan and tamper the cumin seeds and heeng into it. Now put fenugreek leaves, salt, red chilli powder, green chilli and ginger into it. Mix the ingredients well and cook for 5 minutes on low flame. The filing to stuff the parantha is ready.
How to make Fenugreek Stuffed Bajra Parantha:
Knead the dough and divide it into 8 equal parts.
Heat a pan on a stive and grease it with little ghee.
Take one part of the dough and roll it into small ball. Divide it into two equal parts. Take one part and roll it on a rolling board into a flat disc of 5-6 inches.  Dust the second part of the dough with dry wheat flour and roll it also in a flat disc of 5-6 inches. Now take 1 tea spoon filling and put it on one of the rolled out parantha and cover it with the second parantha in a way that the whole parantha is covered and corners are joined together so that the filling do not come out. Press the parantha with light hands so that the filling inside the parantha sets. Keep on pressing with fingers to increase the size of the parantha. 



Now put this parantha on the pan and roast it. Pour little oil or ghee on the parantha and roast it well till both the sides turn crispy and brown in colour. Put a bowl on a plate and keep the roasted parantha over it.
Prepare all the parantha in the same manner. Serve them with aloo matar, aloo curry, raita and coriander chutney.

Tags
Categories
Stuffed Bajra Paratha Recipe
Nisha Madhulika
Rating:

5.00

out of

5