Gujarati Kadhi Recipe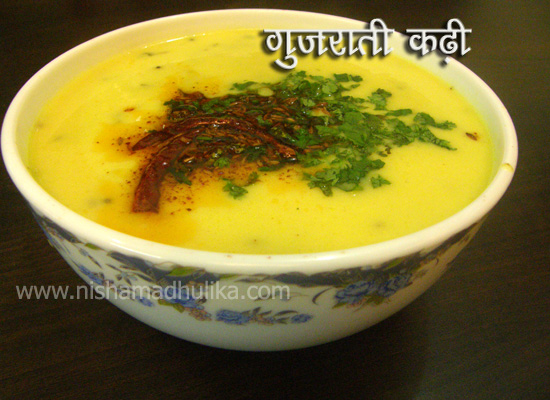 Gujarati Kadhi is thin in consistency as compared to Pakoda Kadhi. Gujarati Kadhi contains curry leaves and mustard tampering and tastes very good. So lets start making Gujarati Kadhi and serve it in the lunch today.
Ingredients for Gujarati Kadhi
Curd - 400 gms. (2 cup)
Gram flour - 80 gms. (1/2 cup)
Oil - 2-3 table spoon.
Cumin seeds - 1/2 tea spoon.
Mustard seeds - 1/2 tea spoon.
Fenugreek seeds - 1/2 tea spoon.
Curry leaves - 6-7
Heeng - 2-3 pinch.
Turmeric powder - 1/4 tea spoon.
Green chilli - 1-2 (chopped)
Ginger - 1 inch long piece or 1 tea spoon ginger paste.
Salt - 11/2 tea spoon
Jaggery or sugar - 1 tea spoon.
Red chilli - 2
Red chilli powder - less than 1/4 tea spoon.
Coriander leaves - 2 table spoon (chopped)
Method - How to make Gujarati Kadhi
Sour curd and full cream can enhance the taste of your curd and make it taste delicious.
Sieve the flour and add curd into it. Whisk the batter well by adding 1.2 ltr water into it. The batter to make kadhi is ready.
Heat oil in a pan and tamper the cumin seeds, mustard seeds, fenugreek seeds in it on a low flame. Once the cumin seeds and fenugreek are roasted well put heeng, turmeric powder, curry leaves. green chilli and ginger paste to it. Mix the masala well and roast with the spoon. 



Pour the kadhi batter into the roasted masala and let it boil on a high flame. Stir the kadhi continuously while cooking it. Once the kadhi starts to boil stop stirring it and add salt, coriander leaves, red chilli and sugar to it. Cook the kadhi on low flame for another 15 minutes.
Gujarati Kadhi is ready. Tranfer it in a serving dish. Now to garnish the kadhi take a small pan and heat oil in it. Tamper the cumin seeds into it and turn off the flame followed by adding red chilli and 1/4 tea spoon red chilli powder in it. Pour the tampering into the kadhi along with coriander leaves.
Serve the hot Gujarati Kadhi with naan, chapati or rice.
This preparation is for 4 people.
Time taken - 40 minutes.
Tags
Categories
Gujarati Kadhi Recipe
Nisha Madhulika
Rating:

5.00

out of

5