Haldi ki Sabzi Recipe - Turmeric Curry Recipe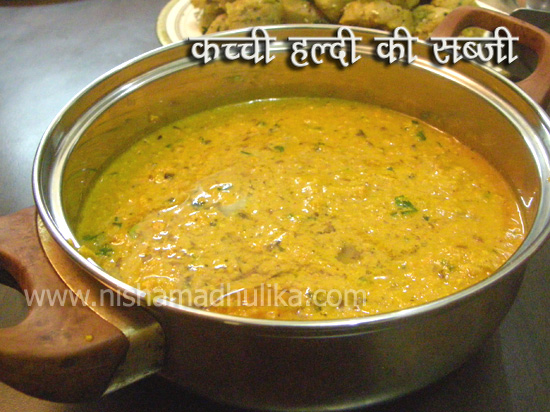 Turmeric Curry (Haldi Sabzi) is a traditional recipe of Rajasthan served in special ocassion like marriages and parties. You can find turmeric in the winters. It is yellow in colour and looks like a Ginger. Turmeric is hot in tendency and is used to cure cold and joint pains that takes place during winters.
Turmeric is fried in desi ghee so that the bitterness goes away. Turmeric Curry is made only with whole raw turmeric. You can add peas, cauliflower into the curry.
Read this recipe in Hindi - Haldi ki Sabzi Recipe in Hindi
Ingredients for Turmeric curry recipe
Whole Raw Turmeric - 250 gms. (7-8)
Peas - 1 cup.
Tomato - 4
Green chilli - 2-3
Ginger - 2 inch long piece
Curd - 400 gms. (2 cup)
Ghee - 150 gms. (2/3 cup)
Black pepper - 10
Cloves - 5
Cinnamon - 2 pieces.
Cardamom - 4
Cumin seeds - 1/2 tea spoon.
Heeng - 2 pinch
Coriander powder - 2 tea spoon.
Anise powder - 1 tea spoon.
Salt - 1 tea spoon (according to the taste)
Coriander leaves - 1 table spoon (chopped)
Method - How to make Turmeric curry
Wash the turmeric pieces, dry the water or wipe with a cloth, peel them and then grate them in a bowl.

Wash the tomatoes and cut them into big pieces. Separate the stems from green chilli and wash them. Peel and wash the ginger and cut into big pieces. Grind all the ingredients into the mixture and make a paste. Cut two tomatoes into big pieces and keep them in a separate bowl.
Whisk the curd. Grind the black pepper, cloves, cinnamon and cardamom in a grinder.
Heat ghee in a pan and roast the grated turmeric on medium flame till it turns brown. Keep on stirring the turmeric while roasting it. It would be better if you will use non-stick pan to roast it. Once the turmeric gets roasted take it out on a plate. Fry the peas in the same ghee and keep them in a separate small bowl.

Now tamper the cumin seeds, heeng into the remaining ghee. Once the cumin seeds gets roasted put ground masala, coriander powder and anise powder into it. Roast the masala well and then add tomato paste and roast it again till the ghee starts to float at the top of the masala. Add curd into the roasted masala and cook till it starts to boil. Put tomato pieces into the boiling curd, fried turmeric. Cook by continuously stirring it with the spoon until the recipe starts to boil. Add salt to it and cook the recipe for another 2-3 minutes. Turn off the flame.
Mix coriander leaves in the recipe and leave it covered for 10-15 minutes.
Turmeric curry is ready. Serve it with naan, chapati and rice.
You can also fry the peas in the refined oil before putting it into the curry.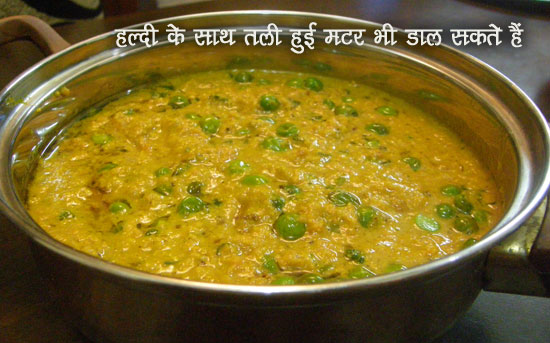 Haldi ki Sabzi Recipe video


Tags
Categories
Haldi ki Sabzi Recipe - Turmeric Curry Recipe
Nisha Madhulika
Rating:

5.00

out of

5