Moong Dal Kadi Recipe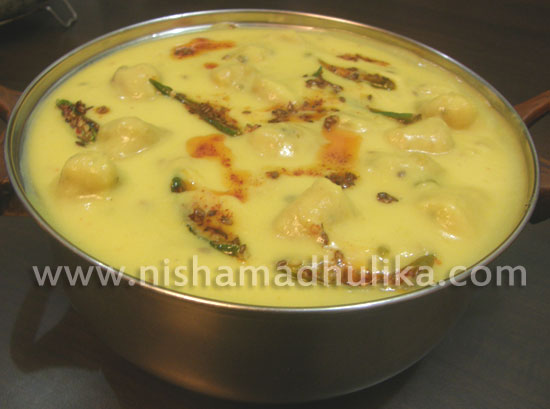 You obviously must be liking Besan ki Kadi, Moong Dal /Chana Dal ki Kadi has a tastes entirely different than Besan ki Kadi. So today we will prepare Moong Dal ki Kadi.
- Ingredients for Moong Dal Kadi
Moong Dal(washed) - 300 grams (1 1/2 cup)
Curd - 400 grams (2 cup)
Heeng - 1 to 2 pinch
Jeera(cumin seeds) - 1/2 tsp
Methi seeds - 1/2 tsp
Turmeric powder - 1/2 tsp
Green chilly - 2 to 3
Red chilly powder - less than 1/4 tsp(if you prefer spicy)
Green coriander - 1 tbsp (finely chopped)
Oil - to fry Pakoras for kadi
- How to make Moong Dal Kadi
Clean, wash Moong Dal then soak it in water for 2-3 hours.
Take out the soaked dal from the water and make a coarse paste of it. Divide the dal paste into 2 portions, beat curd and mix with 1 portion of dal paste, add 2 liters of water, the curry for Kadi is ready.
Put the other portion in a utensil, put some coriander and beat properly with a spoon or your hand. Dal needed to make Pakoras is ready.
Pour oil in a frying pan(kadhai) and heat, take some dal in your hand and break as many round Pakoras that will fit in the pan. Turn over the Pakoras regularly and fry till they turn brown. Fry all the dal Pakoras in this manner and keep them on a plate.
For preparing curry, heat 2 tbsp oil in frying pan, keep a low flame. Roast Heeng, Jeera and Methi in hot oil, then put turmeric powder, green chilly and red chilly powder. Add the Kadi curry to these spices , continuously stir Kadi as you cook it on a high flame till it comes to boil. After it comes to boil put the prepared Pakoras and salt then stir till Kadi comes to a boil again.

Once it boils lower the flame and allow Kadi to cook for 20 minutes. Do stir the Kadi in between 2-3minutes. You will see that a Malai type substance has formed all around the Kadhi. Moong Dal Kadi is ready,turn off the gas.
Take out Kadi in a bowl. Heat 2 tsp oil in a small frying pan, roast 1/2 tsp Jeera in hot oil, if you prefer more of spicy then cut 2-3 green chillies length wise and put in this Tadka. Turn off the gas, add 1-2 pinch red chilly powder and pour Tadka on the Kadi, garnish with the remaining green coriander leaves.
Note :
If the curd is fresh but not sour then it prevents the Kadi from tasting sour as well. To make the Kadi sour, add 1 lemon's juice to it after you cook the Kadi, Kadi will be sour and tasty.
Insted of Moong Dal you can also make Kadi with Chana Dal and follow the same process.
Serves - 6 to 7
Cooking time - 1 hour
Moong Dal Kadhi Recipe video

Tags
Categories
Moong Dal Kadi Recipe
Nisha Madhulika
Rating:

5.00

out of

5