Palak Soya Sweet Corn Curry Recipe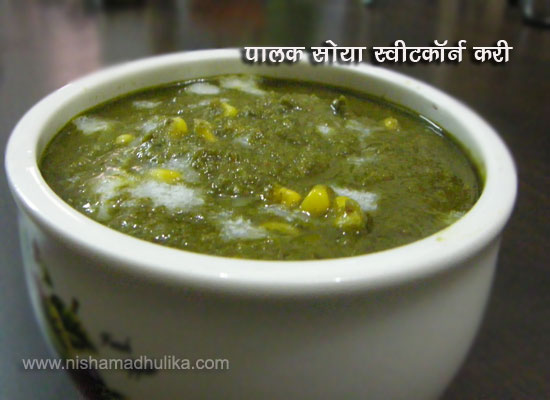 Lots of spinach, some pleasant smelling soya(Dill) leaves and soft sweet corn taken from fresh corn mixed together make a very palatable curry. You and your family will surely love it.
- Ingredients for Palak Soya Sweet Corn Curry
Sweet corn - 150 grams(1 cup)
Spinach - 750 grams(1 small bunch)
Soya (Dill) Leaves - 200 grams
Tomatoes - 3 to 4 (medium sized)
Green chilly - 1 to 2
Ginger - 1inch long piece
Jeera(cumin seeds) - 1 1/2 tsp
Methi seeds - 1tsp
Coriander - 1 tsp
Oil - 2 tbsp
Gram flour - 1 tbsp
Turmeric powder - 1/2 tsp
Salt - add to taste (1 tsp)
Red chilli powder - less than 1/4 tsp ( if you prefer spicy)
- How to make Palak Soya Sweet Corn Curry
Break off the stems of the spinach, wash then chop finely. Remove the stems of the soya(Dill) leaves, wash then chop finely. Wash and clean sweet corn.
Roast Jeera, Methi and coriander on pan till they turn brown.
Wash and chop tomatoes. Wash green chillies, break its stems then peel, wash ginger and cut into pieces. Put all these in a mixer along with the roasted spices and make a fine paste.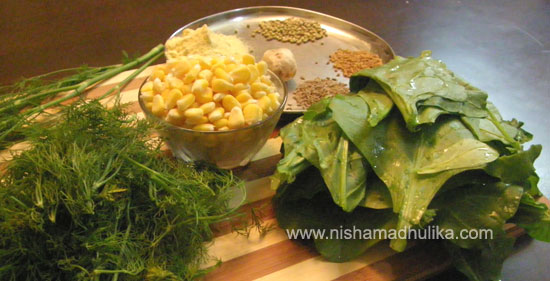 Put gram flour in a small frying pan and fry without adding any water till it turns light brown, then keep it in a plate.
Pour oil in a pan and heat, put 1/2 tsp Jeera in hot oil. Once Jeera is roasted add turmeric powder and the grounded spices. Fry the spices till oil starts floating over them.
Put chopped spinach, soya and sweet corn in the fried spices with 1 cup water(with gram flour dissolved in it) according to how thick or thin you want the Tari. Add salt and red chilly powder then mix. After the curry comes to boil cook for 12-15 minutes till curry is uniform in texture(curry should flow freely with water when poured from a height).
Palak, Soya(Dill) Leaves, Sweet Corn Curry is ready.Tke out curry in a bowl and grnish with butter. Serve hot  Palak, Soya(Dill) Leaves, Sweet Corn Curry with chapati, naan or rice.

Tags
Categories
Palak Soya Sweet Corn Curry Recipe
Nisha Madhulika
Rating:

5.00

out of

5